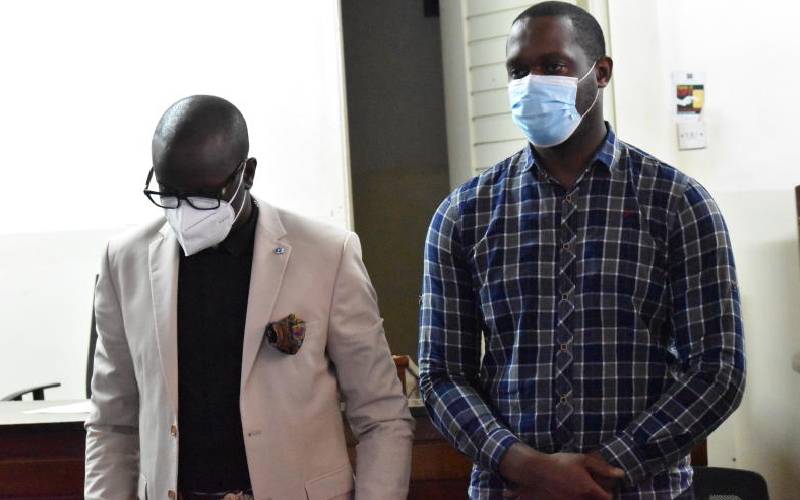 Suspect in the murder case of businessman Kevin Owenga, Chris Obure, has been granted a cash bail of Sh2 million and two sureties of same amount.

Appearing before Justice Jessy Lesiit, his bodyguard Robert Ouko Bodo was charged with the murder of Mr Omwenga and was also freed on a cash bail of 500,000 shillings and two sureties of same amount.

Both suspects were ordered by the court not to hold or own firearms until matter is heard and determined. They are also not to interfere with witnesses or contact any of the victims' relatives.

Obure and Ouko were also directed to deposit their travelling documents with the court after it was determined that they are a flight risk.

Ouko who is the prime suspect in Omwenga's shooting at Galana Suites in Kilimani, Nairobi, claimed the shooting was accidental. In a statement recorded by Ouko to the police on Sunday, August 23, the suspect confirmed that the gun which belong to his boss Obure went off while he and the deceased were fighting over it.

According to a witness, the two had been arguing over Sh40 million from a gold deal struck back in March this year. The witness told the police he was in the kitchen when he had a gunshot.

When he rushed to the bedroom, he met the suspect leaving in a hurry and found Omwenga lying on his back, blood oozing from the chest. He was taken to a city hospital but was pronounced dead on arrival.

Early that day, Ouko had taken the gun from a safe in his boss's office all the while in contact with someone through a walkie-talkie.

Obure who is also implicated in the suspecting murder case has said through his lawyer that he had no idea his gun had been picked from his office.