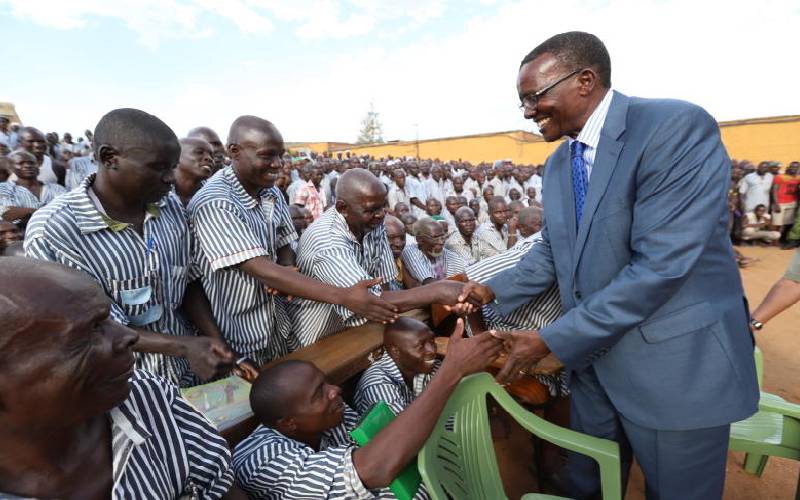 A task-force formed to review criminal laws recommended that convicts be released from prison early if they are deemed to have reformed.
Following the Francis Muruatetu judgment by the Supreme Court, the team formed on May 26, 2017, and chaired by the Secretary of Justice and Constitutional Affairs Maryann Njau, was tasked with looking into the entire penal law, with its report forming the basis of how crime would be punished.
In its report, handed to Chief Justice David Maraga last year, committee members recommended a parole system where offenders serving long sentences are granted freedom after serving a number of years in jail.
But because the country has no national parole board, the report cannot be implemented.
Read More
"The task-force sat, they did their report and it was handed to the Chief Justice. It is up to the CJ to give the multi-sector team the way ahead. The AG handed the report," said Linda Laboso, who handles communications for the Attorney General.
According to the recommendations, only criminal masterminds and those who have committed aggravated crimes should be handed a jail term without the option of an early release.
The report says the conviction regime would include a prisoner serving between 15 and 30 years before being considered for parole.
It suggests that an offender must report to their parole officer at specified times and place, live at a specified location or with a specified person (for example, a parent), avoid taking or abusing alcohol or drugs, avoid contact with a particular person or persons (for example, the victim(s) or former criminal associates), and refrain from committing any criminal offence.
An offender will also be required to participate in a rehabilitation programme or educational activities and must actively seek employment or alternative economic engagement.
Social worker
If an offender is younger than 22 years, they must be supervised by a social worker.
"If, however, an offender is serving a sentence for a violent offence, as will be defined in the parole regulations and will include murder and other offences against the person, the parole board will be empowered to refuse to grant parole. Such refusal must be based on a reasonable likelihood of the offender committing a further violent offence," the task-force's report reads.
"A decision to deny parole is not subject to appeal, but is subject to judicial review by a court. Any denial of parole must be reviewed within five years, and within every subsequent five years, until the offender is granted parole or serves the remainder of his or her sentence."
The task-force recommended that the Attorney General and Parliament commence an inquiry and develop legislation on the definition of what constitutes a life sentence, which may include a minimum number of years to be served before a prisoner is considered for parole or remission, or provision for prisoners under specific circumstances to serve whole life sentences.
The current regime assumes that a prisoner on death row should die in jail.
The task-force had called for a national after-care policy that would provide for programmes to support rehabilitation and reintegration of offenders released on parole.
This programme would incorporate community-based organisations or religious institutions, alcohol and drug counselling and support groups, job search training and assistance, violence prevention strategies, finance and debt management training, tutoring or other educational support, and peer counselling
It had also recommended establishment of halfway houses with rules, treatment programmes, work requirements and curfews to support rehabilitation and reintegration for offenders who have served long prison terms or who have mental or physical health challenges and may require extra support.
"Once granted, parole will not be subject to appeal, though it may be revoked by the parole board if the offender re-offends or otherwise shows gross misconduct or breaches conditions of the parole order. If an offender's parole is not revoked for the entire time remaining in the sentence, then the offender thereafter will enjoy full freedom. A decision revoking parole is subject to judicial review by a court," the task force noted.