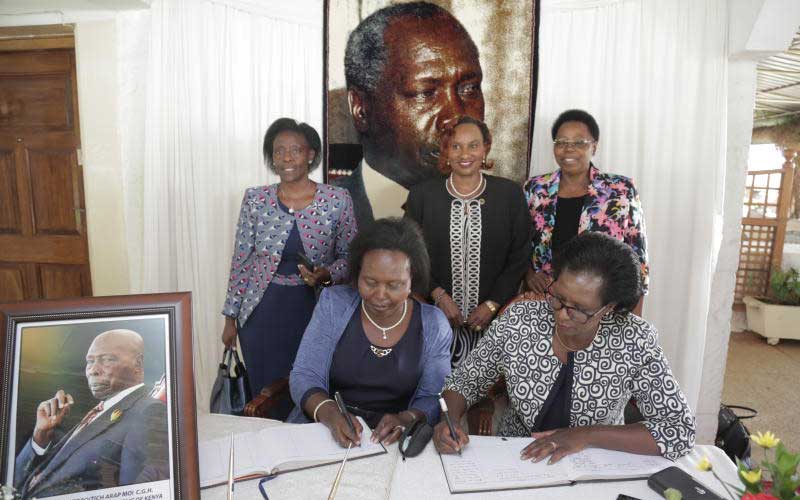 Former President Daniel arap Moi's warning that multi-party democracy would lead to tribalism has come to pass, Jubilee Party Secretary General Raphael Tuju has said. "When he warned us, we all thought that he was only stating it because he was opposed to multi-party. This is the time we are now realising that his caution was genuine. We are now struggling to get the country united, including through the Building Bridges Initiative (BBI) because we did not take heed of the caution," Tuju said at Kabarnet Gardens yesterday when he joined other leaders in condoling with the family of the former Head of State. Former Jubilee Vice Chairman David Murathe said Moi's death had unified the country and calmed the political temperatures. As leaders and other dignitaries continued to mourn the late president, Senator Gideon Moi said the family had been humbled by the love and respect accorded to their father, saying they were overwhelmed by the messages delivered to them and the many guests who were visiting the home to mourn with them.
SEE ALSO: Mt Kenya plot for 2022 in resource sharing politics
"We are completely humbled by your outpouring love and respect. We lack words to express our gratitude," Gideon said. "It is with humility that I express my gratitude for finding time to come and condole with us, we thank you for your time."
Committed Christian
Other notable leaders who visited the family at Kabarnet Gardens yesterday include Chief Justice David Maraga, his Deputy Philomena Mwilu and Garissa Senator Yussuf Haji who was a Provincial Commissioner in Moi's government, his family and foreign envoys. Justice Maraga said Moi was a committed christian and a peace-loving Kenyan who did not tire preaching for unity. "His commitment to Christianity is something to emulate," the Chief Justice said. Central Bank of Kenya Governor Patrick Njoroge told the family it should be proud it gave the country a man all Kenyans loved. "Perhaps you may not know as a family that Moi was loved. Kenyans are mourning the loss of a great man," he said.
SEE ALSO: A not so secret Coup and needless deaths
He said Moi's legacy can be seen in the things he cared for, including peace and education. Njoroge gave the Moi family souvenirs of the coins that Kenya adopted after Moi took over in 1978. Narc Kenya Party Leader Martha Karua said she had reconciled with Moi despite the political differences they had when she was in the Opposition challenging the Kanu administration. "We have had tea in this residence more than three times. You can have political differences and even squabble, but you do not carry that bitterness for ever. We came together and closed ranks," the former Minister, one of the fiercest critics of Moi in the 1990's, told mourners at Kabarnet Gardens. Karua hailed Moi's contribution in the education sector, saying he had helped many people access education. Former Starehe MP Bishop Margaret Wanjiru saluted the former president for his steadfast belief in God and the virtues he imparted to many.
SEE ALSO: Nairobi's growth shocked Mkapa — Recalls ADC
West Pokot Governor John Lonyangapuo said Moi's track record was something everybody would want to emulate. He said in West Pokot, Moi started a 1,500-acre irrigation scheme in Weiwei that would change the lives of the locals. "We have now revived the project and plan to even expand it. It is among many other things that will continue to serve as his legacy in the county," said Prof Lonyangapuo. Laikipia Governor Nderitu Muriithi, Judy and David Kibaki, also joined the mourners in condoling with Moi's family. Muriithi said Moi's contribution to the country would not go unnoticed and his development record was evident. Kenya National Chamber of Commerce and Industry (KNCCI) president Richard Ngatia eulogised Moi as a visionary leader who helped the country grow. Ngatia said the former president had preached peace and through him, the country was united.
Father's footsteps
Former Cabinet Minister Musa Sirma asked Gideon to follow in his father's footsteps and offer inspirational leadership, especially in uniting Kenyans. "A lion does not give birth to a fox. We have confidence in you, it is your time to rise," he said. Former Kipkelion MP Magerer Langát also reiterated Sirma's message and called on Gideon to stand up and uphold the name of his father. Kadri Ayal (Honary Consul for Estonia), Luiza Fargoso (Head of mission for Portugal) and S Furrer (Honorary Consul for Gabon) said they were saddened by the demise and on behalf of their countries, gave their condolences. "Please receive condolences from Gabon President Omar Bongo who sent me to convey them," said Mrs Furrer. Other leaders who condoled with the family included former assistant Joseph Kiangoi, former Bomet governor Isaac Ruto, former Mosop MP David Koech, former Kwale Woman Rep Zainab Chidzuga and Garissa University Chancellor Hellen Sambili.