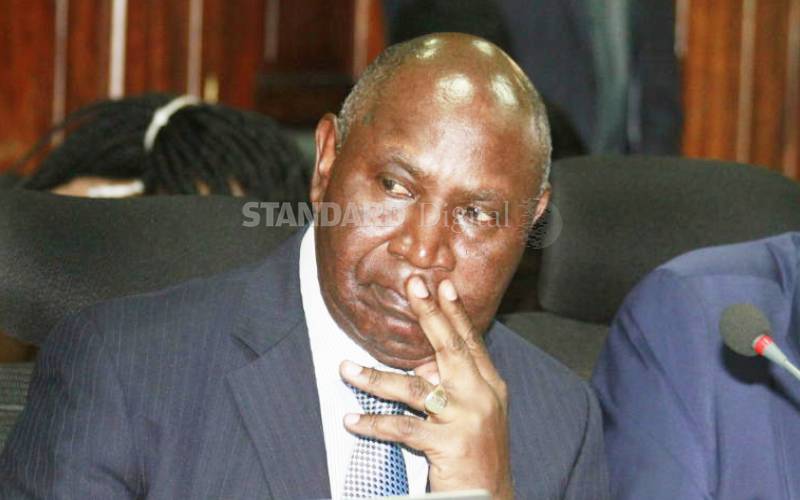 The former Auditor General is urging his successor not to relent the fight against impunity.
Speaking to the Sunday Standard on the sidelines of a cocktail organised in his honour by the Old Cambrian Society, Mr Edward Ouko said his successor must stretch the frontier of accountability.
"I would love to see my successor having the guts to confront the impunity prevalent in this country and able to see through the (audit) reports for action," said Ouko. Ouko's farewell cocktail party held at Impala Club honoured his contribution as the first Auditor General under the 2010 Constitution.
"Kenya is far from realising integrity aspirations set in the 2010 Constitution," said Ouko.
"I still feel our institutions lack the skills to manage funds and this is where the problem starts. Our institutions need to set standards of operation with personnel of unquestionable character."
Ouko said Kenyans must be prepared to make 'painful sacrifices' before enjoying the fruits of good governance and integrity.
To blame
"If Kenyans continue to get some of these characters in office we will have ourselves to blame and I think it is the right time we should call a spade a spade," he noted.
Until Tuesday last week, 17 applicants had been shortlisted to replace Ouko.
Among those angling to replace him is David Muchoki Kanja, a UN assistant Secretary General in charge of internal oversight services.
Kanja has in the past served as the director UN Children's Fund's (UNICEF) office of internal audit, World Bank and Deloitte.
Also in the shortlist are deputy auditor generals William Otieno Agunda, David Gichana, Edwin Kamar and Sylvester Ngei. Kamar is a former Principal Internal Auditor at Safaricom.
Dennis Theuri, the director of audit in charge of the agriculture docket at the Office of the Auditor General is also in the shortlist as well as the Nancy Kabui, the head of corporate services.
Alex Nthiga, a retired deputy Auditor General and Hannington Obiero, a director at OAG were also shortlisted.
Others are politician Abdullahi Idris Abdi and Joseph Masambu, the chief internal auditor at the the office of the Controller of Budget.