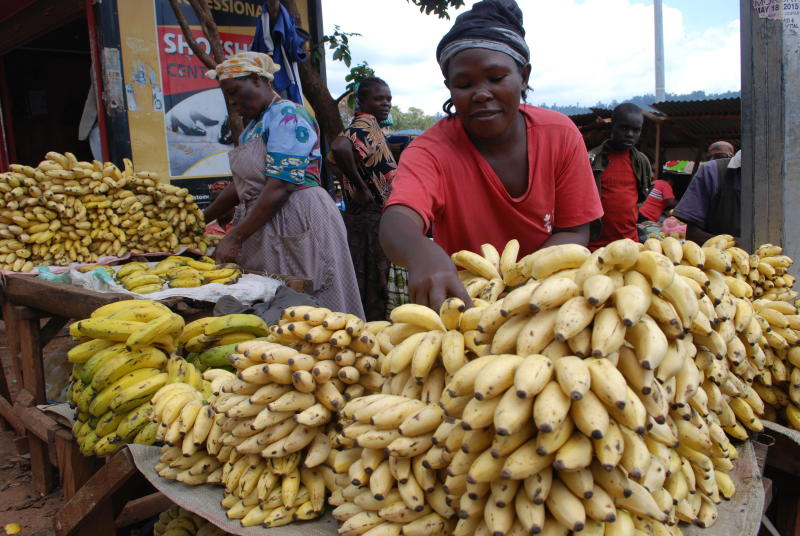 Farmers in Kisii County will no longer have to sell their bananas and avocados at throwaway prices due to lack of market. This is after Governor James Ongwae said the much-awaited banana factory is nearing completion. Mr Ongwae yesterday confirmed that the two factories will be commissioned in June next year and will see farmers reap maximum value addition from the two crops. "The two factories will increase both the shelf life and value of our farm produce, resulting in higher income to our farmers," said Ongwae.
SEE ALSO: Covid-19 exposes need to back smallholder farmers
The banana factory project has been jointly funded through the European Union (EU) Instruments for Devolution Advice and Support (IDEAS-Kenya) programme and the Kisii County government. In July, Ongwae, Devolution CS Eugene Wamalwa and the European Union (EU) Head of Macroeconomics Vincent De Boer laid the foundation stone for the banana factory in a ceremony attended by leading banana farmers and extension officers in the region. "Our county currently produces 350,000 metric tonnes of bananas annually, with most of them being sold out of the county. Construction of the factory would be a major milestone to present and future generations," Ongwae said. Some 3000 metric tonnes of bananas are sold outside the county per week, which translates to around 150,000 metric tonnes, with around 200,000 metric tonnes remaining to be sold locally, earning local farmers very little money. High demand
SEE ALSO: Rice farmers ditch crop amid increasing fears of food crisis
Ongwae said middlemen get 90 per cent of the banana proceeds, with the farmers getting only 10 per cent. He said the factory would be processing 80 metric tonnes per day, which would lead to high demand for bananas, and called on area farmers to cultivate more bananas to ensure the factory is running. The EU has granted the county Sh110 million for the banana value chain project, with the county government giving a counter fund of Sh60 million to establish the factory at a site within the Kisii Agriculture Training Centre (ATC) land. Besides construction of the banana processing plant, the project involves the capacity-building for farmers, agriculture extension officers and an elaborate supply of high-quality commercial banana variety suckers to enhance production. Esman Onsarigo, County Executive Committee member in charge of Agriculture said Kisii is known for banana production and the county government has already facilitated registration of a banana farmers' cooperative society with an initial membership of 2,250 farmers, 50 from each of the 45 wards.
SEE ALSO: Coffee mills to roar as KPCU boss gets nod
He said the project targets over 11,000 farmers in the county in an engagement aimed at ultimately training all farmers in the county on best practices in banana production to support the industry. Already, 78,000 high quality commercial banana suckers have been issued to farmers for planting, while another 100,000 suckers will be issued in the next planting season. Green produce "We will establish three green banana produce collection centres in each ward, thus creating employment opportunities for our youth," Ongwae said. Ongwae said that once operational, the banana factory is poised to churn out a number of products including banana powder, hair pieces, crisps and wine. He said the move will go a long way in increasing the shelf-life of bananas, guaranteeing farmers more returns on their crop. Wamalwa observed that the banana-processing project was set to alleviate the suffering farmers in the area had endured in the hands of middlemen who exploited them by buying the produce at a throwaway price. He congratulated Ongwae for initiating the project and noted that Kisii under the leadership had witnessed fruits of devolution given the numerous development projects so far initiated. "The banana project we have launched will create employment and spur economic development not only for the county but also the country in general. "Our target is to see how we can strengthen counties to ensure realisation of the Big Four agenda," Wamalwa said.