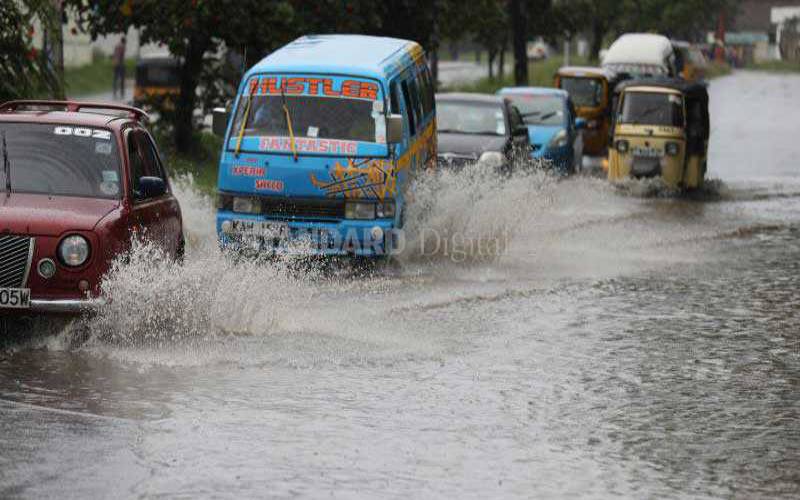 The skies are loose and it has been pouring across the country for the past few days. Heavy rains are being reported with cases of flash floods that have left a trail of destruction. On Friday morning, four family members were killed in Marakwet East landslide following the heavy rains in the area. Whereas in Kitui, four people died on Thursday after their vehicle was swept away as they attempted to cross a flooded Mutindi River in Matinyani.
SEE ALSO: Police launch hunt for gang that shot woman dead in Mombasa
The heavy rains are expected to continue for the next four days in most parts of the country according to an advisory issued by Kenya Red Cross on Thursday. Red Cross says that some parts of North Eastern, Coastal, Central and Western regions will receive very heavy rains and residents have been asked to be cautious of potential landslides and also move to higher grounds. Kenya Meteorological Department also cautioned of the heavy rains as it appears that it will be a wet Mashujaa Day. The department forecasted heavy rains on Saturday accompanied by overcast conditions while moderate rains will be experienced on the material day. President Uhuru Kenyatta is expected to lead Kenyans in commemorating the Heroes' Day in Mombasa amid expected showers in Likoni, Mvita, Changamwe, Kisauni, and Nyali.
SEE ALSO: Teams laud crew change at port
Garissa, Lamu, Tana River, Taita Taveta, Kitui, Makueni, Nakuru, Nandi, and Bungoma will receive heavy rains. But North-western Kenya and some parts of Narok, Kajiado will experience normal rains. People have been advised to move to higher grounds in floods prone areas. The advisory also urged the public to drink only treated and boiled water as a precaution against possible waterborne diseases as the heavy rains could trigger Cholera outbreak and malaria. Other prevalent monsoon maladies are common cold and flu. People have been advised to dress appropriately to keep warm.
SEE ALSO: More police officers deployed as construction of Nairobi Expressway starts
Motorists have also been asked to be vigilant on the roads by keeping a safe distance while driving and to always use headlights when it is raining. The heavy rains have disrupted transport on some roads with the situation feared to might get worse. On Thursday, River Ramisi in Kwale County broke its bank as floods swept away Muhogo bridge on Mombasa-Lungalunga Road forcing motorists to seek alternative routes. Now Kenyans have been asked to brace themselves and stay safe for the next few days thanks to rains that do not know how to fall upwards.