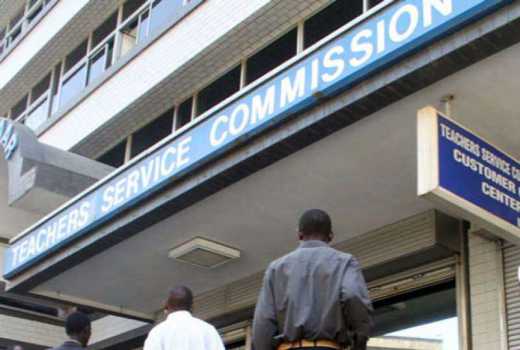 A report by the Teachers Service Commission (TSC) has revealed that Nairobi is leading among counties with more primary and secondary teachers than it needs. The data released by the teachers' employer, which is seeking to hire 5,000 more tutors, shows that Taita Taveta, Laikipia, Isiolo and Embu have more primary school teachers who ought to be rationalised. Marsabit, Lamu and Isiolo have also recorded the highest number of secondary school teachers, according to the report. According to Nairobi's Curriculum-Based Establishment (CBE), which is used to determine the deployment of teachers to public schools, the city's CBE is 4,045 while tutors on active duty are 4,105.
SEE ALSO: Sonko turns to Raila, CJ and Senate in dispute with NMS
This means there are an extra 60 teachers who could be deployed to more deserving regions. The CBE shows that Taita Taveta only requires 2,151 primary school teachers, but there are 2,209 teachers on duty, which means there are 58 additional tutors. Laikipia has 2,722 teachers against a CBE of 2,671, which means there are 51 extra primary school teachers. Data shows that Isiolo has 43 excess teachers. The county only requires 947 teachers but there are some 990 tutors on duty. And Embu, which is supposed to have a staffing establishment of 3,965, has a total of 3,981 teachers on duty thus giving it 16 more tutors.
SEE ALSO: "Nikubaya": Veteran photojournalist recalls the bomb that rocked Nairobi
Excess teachers
In secondary schools staffing, Marsabit has 97 excess teachers. The county requires 450 teachers, but TSC data shows it has 547 teachers on duty. Lamu, which only requires 391 secondary school teachers, has 439 teachers on duty. This means the county has 48 more teachers on duty. Isiolo is also overstaffed at the high school level. TSC data shows that the county only needs 287 teachers but it has 323 tutors, an excess of 36. A brief prepared by TSC shows that there are 216,517 primary school teachers on duty and another 100,493 tutors in secondary schools.
SEE ALSO: Mbadi, Aladwa differ on move to discipline MCAs
TSC data further shows that even with the total staffing standing at 317,010 teachers, there is a shortage of 87,393 tutors. The commission was allocated Sh3.2 billion to employ an additional 5,000 teachers during the next financial year. TSC also requested for additional funds to hire 12,626 teachers to manage the growing student numbers occasioned by the 100 per cent transition from primary to secondary schools. Overall, in secondary staffing, Kakamega has the highest staffing gap of 3,338. The county requires 8,305 teachers, but only 4,967 are on duty. Bungoma has the second-highest secondary school teachers' shortage at 2,770. The county requires 6,662 teachers but only 3,892 are on duty. Migori is understaffed by 2,484 tutors. The county requires 4,459 high school teachers, but TSC data shows that only 1,975 are on duty. Kisii is number four on the list of understaffed counties with a gap of 2,472 high school teachers. The county, according to the TSC, requires staffing establishment of 6,684 tutors yet it only has 4,212 teachers on duty. In primary schools, the TSC status report shows that Kakamega is at the top of the list with a shortage of 3,070 teachers. Of the 13,626 teachers needed, only 10,556 are on duty. Kitui follows closely on the list of understaffed primary schools with 2,514 teachers needed. Only 9,838 teachers are on duty against the required 12,352 tutors. In Bungoma, there is a gap of 2,416 tutors. Only 8,662 teachers are on duty against the needed 11,078 teachers. Narok and Muranga follow closely with a shortage of 2,238 and 2,158 teachers respectively. Over the years, education stakeholders have attributed the huge disparities in academic performance to the unfair distribution of teachers. Reports show that the pupils-to-teachers ratio is heavily skewed with one of the reasons being that teachers prefer schools located in towns. A recent report by Uwezo found that teachers refuse to be posted in arid and semi-arid areas. "They also decline to be posted in hardship areas, often opting to live in towns and other easily accessible areas," said Uwezo Kenya Country Manager Emmanuel Manyasa. Mr Manyasa said all counties are confronted with unique challenges ranging from cultural factors, inadequate number of schools and severe drought to schools situated in remote areas. He, however, noted that deliberate efforts must be made to rationalise teacher numbers. The TSC report mirrors findings of The Basic Education Statistical Booklet, 2014, which is a census report released by Ministry of Education. The report revealed that public schools may not be understaffed after all, and says fair distribution of teachers would yield optimum learners-teachers ratios across all public schools. "The TSC should allocate teachers on the basis of enrollment and the curriculum being offered in a school," reads the report. It also says that an exhaustive balancing exercise should be done on the basis of enrollment and curriculum-based establishment. The report says this will ensure equitable distribution of teachers across the regions. "Develop a clear policy of deployment of teachers to eliminate cases of posting teachers in their home districts and discourage meritocracy." The report also finds that posting teachers away from their home districts has great potential of enhancing national cohesion and integration, and better achievement of education goals.