The mobile text that landed NHIF CEO and Finance Director into trouble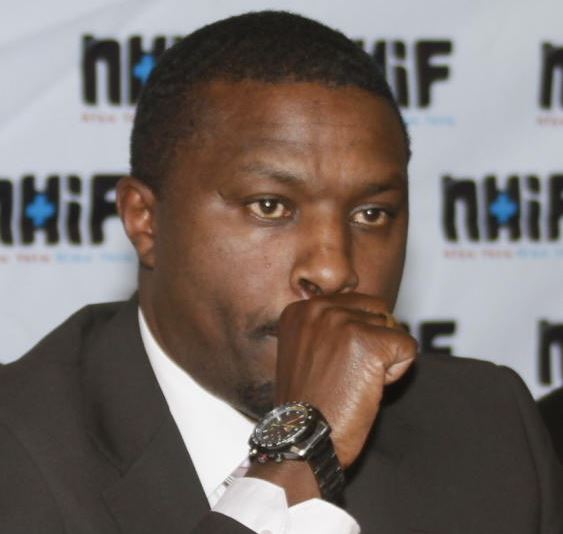 National Hospital Insurance Fund top officials got into trouble because of text messages allegedly exchanged between them to deny investigators documents relating to a contract.
Court records seen yesterday indicated that the Directorate of Criminal Investigations (DCI) was probing a multi-million shilling contract issued to Webtribe Limited.
The documents revealed that NHIF boss Geoffrey Mwangi and Director of Finance Wilbert Kurgat got into trouble with the State because of an alleged text message sent by the former on November 21 at 11.46am directing the latter not to cooperate with investigators.
It was claimed that Mr Mwangi directed Mr Kurgat not to furnish investigators with the vouchers that NHIF used to pay Webtribe.
"Hi, do not give those guys. Tell its part of vouchers they took from your office. They also need to come to me," a text message allegedly sent from Mwangi's phone and submitted before the court read.
Kurgat allegedly replied with an "Ok".
Another text message allegedly sent by Mwangi read: "Do not give them, tell them you are looking for them, they give you time and they need to inform me. Actually, tell them they took them.''
The probe into the contract claimed to be running into hundreds of millions started on September 26, when a team led by Nephat Marubu conducted searches at the NHIF headquarters and the residences of senior officials.
Take a quick survey and help us improve our website!
Take a survey
The investigators were interested in the payments and books touching on the IT firm's contract with the insurer.
Court documents also reveal that the decision to charge the two emanated from a forensic investigation conducted by the Serious Crimes Unit.
According to the court records, the sleuths retrieved all phone message communications, including from social media, between September 18 and November 23.
The mobile phones were connected to Cellebrite UFED, a software meant to extract mobile device data directly onto an SD card or USB flash drive.
It has the ability to recover deleted information, decipher encrypted messages and acquire information from password-protected mobile applications such as Facebook, Skype, WhatsApp and browser-saved passwords.
UFED can also overpass devices' password locks as well as SIM PIN numbers.
Mobile applications
The software used by the DCI was developed by an Israeli company, Cellebrite, and has the ability to "view information from three million Android mobile applications".
The orders for a search were against 14 individuals working at NHIF.
Other NHIF employees who were in the search list were Gilbert Kamau (director ICT), Nichodemus Odongo (director strategy and planning), Dinah Kirwa (director corporate services), Gibson Muhoho (head of registration), Johnston Ouma (procurement officer), Hannah Muriithi, Abdul Galgalo, Grace Gathoni, Naomi Ouma, Gilbert Osoro and Kimulwen Chesaina.
Yesterday, the court ordered that Mwangi and Kurgat spend another night in police cells as they await a ruling on whether they would be charged.
Milimani Chief Magistrate Francis Andayi ordered the two to be detained at Muthaiga Police Station until today, when he will decide whether the charges intended to be pressed against them were defective.
The two had objected to the charges, claiming the books they were said to have blocked DCI investigators from getting access to were not specified.
According to the State, both the NHIF boss and the finance director blocked investigators from getting crucial documents needed for investigations.
When it was time for the two to answer to the charges, they argued that the charges were ambiguous and defective.
Through lawyers Jotham Arwa and Tom Ojienda, Mwangi and Kurgat argued that the charges brought by the State against them were not specific on which documents they barred DCI officers from getting.
But Senior Assistant Director of Public Prosecutions Alexander Muteti argued that Mwangi and Kurgat were aware of what they did not supply.
"We have sufficient particulars to make the two accused understand and take plea. We have stated the date, we have stated the orders they disobeyed. We have gone further and told them the orders were to facilitate investigations. What more?" asked Mr Muteti.
Facilitate investigations
He also argued that if the charge was defective, then the court ought to have rejected it even before it was read to them.
"You cannot disobey court orders and then now come say you want to comply. That is impunity of the highest order," argued Muteti.
The court will deliver its ruling today.
Nyong'o apologies to Odingas
Governor Anyang' Nyong'o has apologised to the family of Jaramogi Oginga Odinga following the listing of Jaramogi as a land rate defaulter.