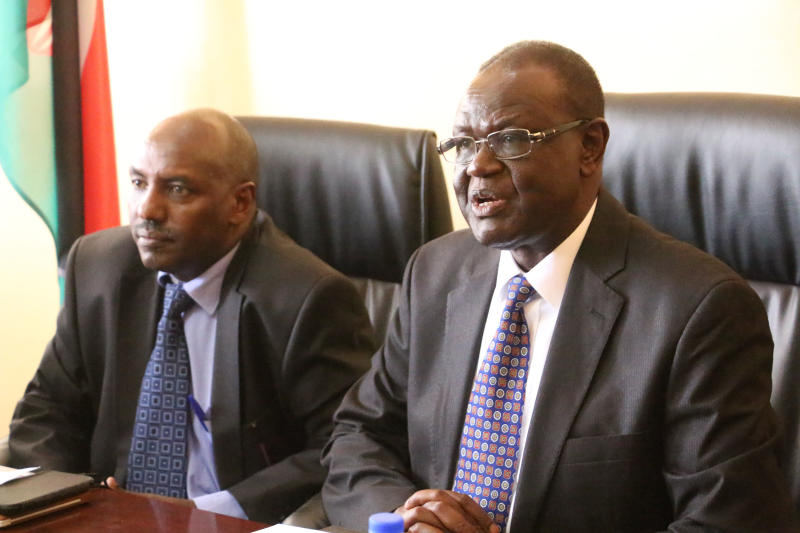 Even after Miraa was recognized as a cash crop by the government in 2016 and currently controls a Sh1 billion budgetary allocation, a series of setbacks locally have recently hit the sub sector.
The miraa sub sector is already reeling from an export ban to lucrative European markets in Britain and Netherlands where consumption was driven by the significant Somali immigrant community but industry players said a series of actions by some county governments and other players pose a further threat.
The Miraa Implementation Taskforce Committee which has concluded two week preliminary consultations in Mt Kenya East has lobbied governors of Meru, Embu and Tharaka Nithi to engage their counterparts through the Council of Governors (CoG) to stop the negative trend.
Taskforce chairman Kello Harsama said meetings are planned for counties which has been sending out negative signals that they could clampdown on miraa consumption and trade.
Read More
"We will definitely go to those counties and talk to governors and county assemblies and convince them of the new status of miraa and why they must support us," said Harsama who is the Secretary of Administration at the State Ministry of Agriculture.
The vocal Nyambene Miraa Traders Association (Nyamita) cited the Sh100,000 annual levy to farm miraa proposed in the Makueni County Finance Bill, 2018.
"This is pure madness. Who in their right senses taxes farming," said Nyamita chairman Kimathi Munjuri. "This isn't the only levy on Miraa proposed by the Makueni government. They have about six others."
Miraa farmer and Igembe Central politician James Mithika said the actions by other counties were illegal undertakings against the Constitution's Article 191 that bar devolved units from passing legislation that may harm the economic well-being of each other.
In March, the Kwale County Assembly passed a motion banning sale and consumption of Miraa and Muguka in the county.
Tabled by Kasemeni MCA Antony Yama, the motion is said to have followed the mass rejection of youths during the Kenya Defence Force (KDF) recruitment allegedly because of brown and decayed teeth attributed to consumption of the stimulant.
The Kwale MCAs argued that youth in the area were wasting away because of the stimulant which they also blamed on high school dropout by the addicted.
Yama claimed that Miraa has caused a lot of divorce cases after users have failed to perform their conjugal obligations.
The MCAs had tasked the Kwale's department of Health to draw regulations implementing the ban.
In July, Khalija village in Mandera North constituency sensationally announced a ban on the use and sale of miraa.
The decision was reached by elders, religious leaders, youth, and women groups after weeks of lobbying with an agreement that consumers of the stimulant be barred from marrying from the area.
A month later, Mombasa County Assembly Nominated Member Fatma Mote announced she was planning to table a motion seeking the ban of the sale and use of miraa and muguka in the county.
Like her Kwale counterparts, she claimed that consumption of the stimulant was breaking marriages as women have raised concerns over denial of conjugal rights by "impotent" partners.
Ms Mose also claimed that Muguka was so cheap that at around Sh50, it was affordable to school going vulnerable school going children putting them at the risk of dropping out of learning.
Nyamita, however, said much as the trend was worrying, the purported legislation was in futility as it was against the national government legislation which was considered supreme.
"After national legislation recognized miraa as a cash crop, no one can ban farming, trade and consumption of this crop in any part of the country," said Munjuri. "Makueni's retrogressive Finance Bill is particularly laughable coming from a county whose governor is considered progressive and with national political ambitions."