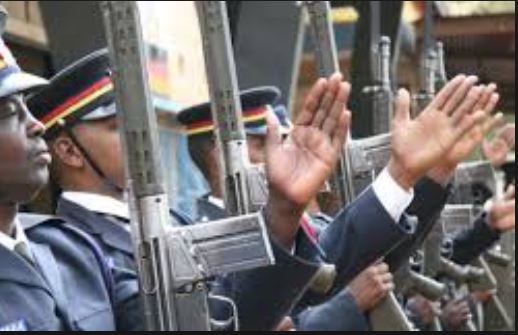 The police employer has agreed to sack 50 senior officers for failing vetting. The National Police Service Commission met on Monday and ratified the names of the officers of the rank of Chief Inspector to be sacked. They varied the list from 53 to 50 after a five-hour meeting at the commission offices at Skypark Towers in Westlands.
SEE ALSO: All officers at Lessos police post to be moved, says DIG
Most of the affected officers were accused of corruption and abuse of human rights and are from Kenya Police, Administration Police and Directorate of Criminal Investigations. Inspector General of Police Joseph Boinnet, his deputies Edward Mbugua (Kenya Police) and Noor Gabow of Administration Police attended the meeting. More than 1,000 officers of the affected rank were vetted in the exercise that ran between May and July. "After deliberating on the list and accusations leveled on the officers, they all agreed that they be sent home. They will be given their letters," said an officer aware of the process. Last year, 127 traffic officers, out of the 904 vetted were dismissed, raising to 14 per cent, the number of officers found unsuitable, up from four per cent.
SEE ALSO: No word on police Covid-19 infections
Some of the reasons for their removal included unexplained financial transactions, including sending and receiving money from fellow officers in the department, operating matatu businesses or receiving money from transporters and operators of towing services. Other officers were dismissed because of professional misconduct The commission said vetting exercise is ongoing and is mandatory and that they are reviewing other appeals that are pending. The applicable vetting standards include officers' satisfaction of entry and training requirements, their professional conduct and discipline, integrity, financial probity and respect for human rights. Those removed had been accused of engaging in criminal activities, corruption, human trafficking, smuggling, submission of fake bank statements, unprofessional conduct and failure to provide documents or information required by the commission.
SEE ALSO: Over 30 cops isolated as Covid-19 hits Kamkunji Police Station
Since the commencement of the vetting of police officers in December 2013, different cohorts of officers comprising more than 15,000 have so far been vetted. Vetting of police officers was among the more than 200 proposals of a commission set up following the 2007-2008-post election violence. The overall goal of the National Task Force on Police Reforms headed by retired Judge Philip Ransley was to transform the police service into an efficient, effective, professional and accountable security agency that Kenyans would trust with their safety and security. The need for police reform was reinforced by recommendations made by the Waki Commission of Inquiry into the 2007 Post-election Violence. This was after police were largely blamed for the violence the broke out after the disputed polls that claimed more than 1,000 lives. The commission recommended urgent and comprehensive vetting to be undertaken by a panel of policing experts to ensure that the service had officers with required competence, skills and knowledge.