Nakuru Town West MP Arama released on Sh2 million bond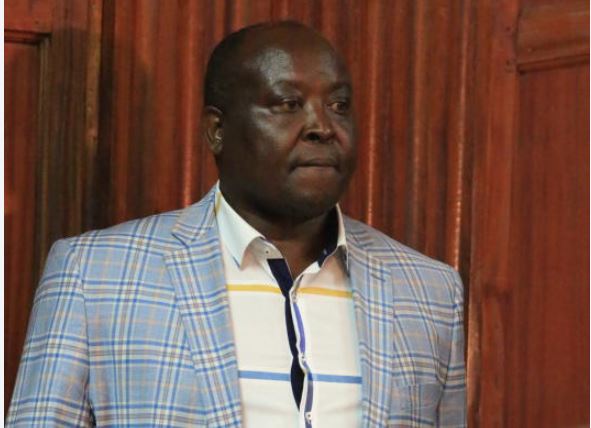 Nakuru Town West MP Samuel Arama and his co-accused Kennedy Begi Onkaba were have been released on Sh1 million cash bail or a bond of Sh2 million each.
The two who were charged on Monday with fraudulent acquisition of land, got a reprieve on Tuesday after their lawyer Migos Ogamba pleaded with the court to have them released on bond saying that it's their constitutional right.
Ogamba had told the court that he was surprised by the allegations by the prosecution that the youths who were demonstrating after the arrest of Arama also attacked police officers.
He said that those are just allegations that are not based on any facts. "The accused are innocent until proven guilty and there are no compelling reasons as to why they should be denied bail," said Ogamba.
The lawyer was opposing an application by the prosecution to have the accused denied bail on the grounds that the charges were serious.
Ogamba told Magistrate Douglas Ogoti that the prosecution did not table any evidence in court in form of writing to show why they should not be granted bail.
"The accused are not flight risk because one of them is an MP and the second one is a lawyer," said Ogamba.
While releasing the two, Magistrate Ogoti said the prosecution failed to provide compelling reasons to deny the accused bail. "The accused has a right to be granted bail unless there are compelling reasons as to why they should be denied bail, "said Ogoti.
Mr Arama had appeared before Chief Magistrate Ogoti in Nairobi on Monday where they denied seven counts of conspiracy to defraud.
They are said to have committed the offences between August 3, 2015, and August 11, 2015.The prosecution said the two conspired to defraud Ahmed Muhammad Nisar of his plot in Nakuru municipality.
The two are said to have pretended that they were carrying out a genuine land transfer of plot Nakuru Municipality block 6/95 within Nakuru County to Samuel Otara Arama.
Arama was also charged with making a land sale agreement without lawful authority in respect of plot Nakuru Municipality block 6/95, the property of Nisar, purporting it to have been signed by Yusuf Mustafa Ratemo.
In another count, Arama was charged with uttering a land sale agreement to the Ethics and Anti-Corruption Commission investigators purporting to have been signed by Mr Ratemo.
On August 7, 2015, Arama was accused that at the offices of the Ministry of Lands, Housing and Urban Development in Nakuru Town, he willfully procured the issuance of certificate of lease and registration of transfer of lease of plot Nakuru Municipality Block 6/95 to himself.
Pre-trail will be on July 9,2018.
To fight drought, involve communities
According to the latest information from the Meteorological Department, rainfall will be poorly distributed in April, May and June, and this will have a serious impact on agriculture