African countries urged to focus on building industries, skills and technologies
KENYA
By DPPS | April 12th 2018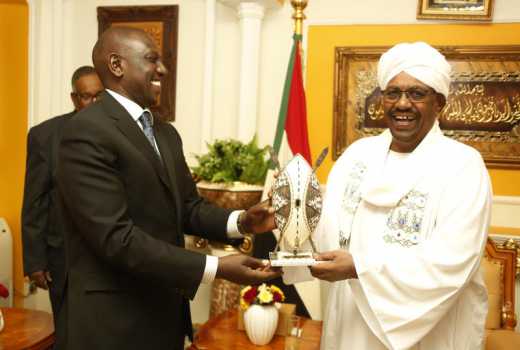 Deputy President William Ruto held talks with Sudan President Omar al-Bashir in Khartoum, Sudan, yesterday, focusing on strengthening trade and investments between the two countries.
The leaders stressed the need for enhancement of co-operation in the areas of manufacturing, agro-processing, textiles and healthcare among others.
Mr Ruto thanked Sudan for allowing Kenya's tea to dominate 80 per cent of its market, saying Kenya did not take it for granted.
President Bashir asked Kenya to consider importing fabric for security personnel uniforms from Sudan.
"I take this opportunity to ask Kenya to consider purchasing uniforms, including those for the military, from our country as we commit ourselves to increasing purchase of tea from your country," said Mr Bashir.
Sudan grows cotton at the Gezira Cotton Scheme.
Bashir also congratulated President Uhuru Kenyatta on his re-election.
Ruto urged the business community to take advantage of the cordial relations between the two countries.
He said the measures taken by Kenya, including issuing of visas to individuals wishing to visit the country on arrival, were aimed at promoting trade in the region.
"Our move to issue visas on arrival to people visiting us is in line with the resolve by African countries to eradicate trade barriers within the region. Kenya is implementing it without a demand for reciprocity from other countries," said Ruto.
The leaders urged African countries to focus on building industries, skills and technologies to produce their own high-quality products and create much-needed jobs.
"There is no need for African countries to continue to export raw materials only to buy them back in the form of finished products," said Bashir.
Ruto who also toured the Sudan Currency Printing Press in Khartoum which, besides printing Sudanese banknotes, prints secured government documents.
To fight drought, involve communities
According to the latest information from the Meteorological Department, rainfall will be poorly distributed in April, May and June, and this will have a serious impact on agriculture