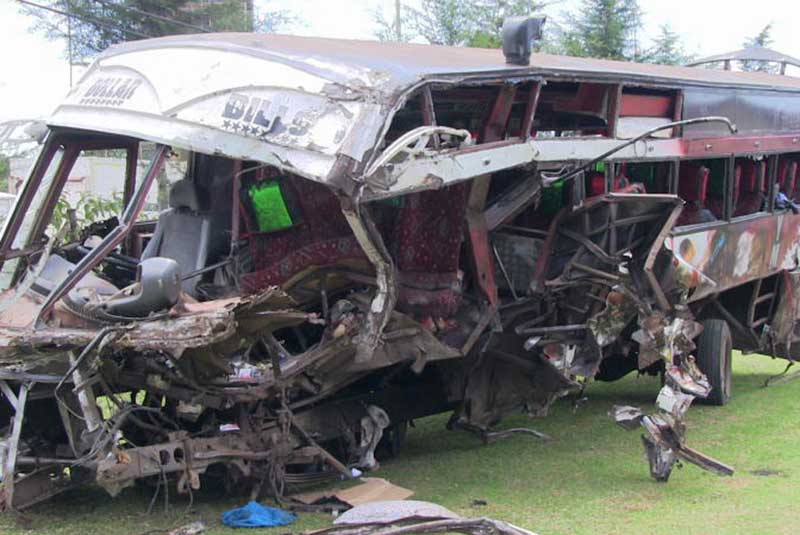 As Kenyans made merry on Christmas Day, 10 families were mourning their loved ones who died in separate incidents.
They ranged from freak accidents, domestic violence and overindulgence.
An outing for a family in Kisumu turned tragic after a child drowned at a swimming pool at a hotel in the city.
The boy, who is yet to be identified, was swimming with several other children who had gone to the pool to celebrate Christmas.
He was spotted by other young ones who saw him struggling and gasping for breath in the middle of the pool.
Read More
They quickly alerted the hotel staff with some adults who were also at the pool rushing to save the boy.
They removed him from the water and administered first aid before rushing him to Jaramogi Oginga Odinga Teaching and Referral Hospital where he died.
County Commander John Kamau, who confirmed the incident, said the boy had not been accompanied by any known relative or friend at the pool.
He said they were looking for anyone with information of any family looking for a missing child.
"The attempts to rescue him did not bear any fruit but we are investigating the circumstances that led to his drowning," said Kamau, who added the child could be about 12 years old.
Separately, a drinking spree over Christmas holiday ended on a sour note after an elderly man died in a village in Naivasha.
The 70-year-old man was pronounced dead on arrival at Naivasha Sub-County Hospital where he had been rushed to after collapsing at the Karai trading centre.
The incident came hours after a lorry ferrying beer was involved in a road accident leading to massive looting from area residents.
According to village elder Geoffrey Wanjohi, for the last couple of days locals had been drinking the free alcohol.
He told of their shock when an elderly men who collected several bottles was found unconscious in a bar.
And in the second incident, residents of Moi Ndabi village in Naivasha are in shock after a middle-aged man committed suicide following a domestic row.
The man, reported to be the son of a former chief was found hanging from a tree before police were called to collect the body.
A neighbour, James Kihara, alleged the deceased had in the past clashed with his parents over his drinking habits.
In Kangundo, the lives of two men were lost after the motorcycle they were riding collided head-on on the Kangundo-Nairobi highway on Christmas day.
The crash, which occurred at a bridge near Malaa shopping centre also also left one person nursing serious head injuries after the 6.45pm incident.
Kangundo OCPD Samuel Anampiu said the motorcycle rider who was carrying two passengers had tried to overtake another vehicle heading towards Nairobi direction before colliding head-on with the oncoming matatu that was heading towards Kangundo.
"The rider and one of his passengers died on the spot while another passenger sustained serious head injuries and was rushed to Mama Lucy Hospital," said the police boss.
Meanwhile, commuters along Tala-Machakos route have urged the National Transport and Safety Authority and the traffic department to rein on a Sacco, which has refused to adhere to road safety rules.
The commuters have accused the Sacco's management of loading and carrying excess passengers at the bus parks in total disregard to the law.
"These people have been operating as if there is no Government in this country. They order passengers who refuse to comply with their policy out of the vehicle to intimidate them," said a commuter at Tala bus park.
Elsewhere in Kericho, a traffic police officer manning a road block near Kisumu road junction a few kilometres from Kericho town was knocked dead by a speeding bus on the Christmas Day accident.
The bus belonging to Githurai 45 Sacco which was traveling from Nairobi towards Kisumu, also smashed into a truck which was coming from the opposite direction and was in the process of negotiating the police roadblock erected 2.5km from Kericho town.
Thirty-one passengers who were aboard the bus to various destinations upcountry for the Christmas festivities, were left nursing serious injuries.
Kericho Deputy Officer Commanding Police Division Nathan Sanya said the bus had been spotted speeding through Kericho town after developing brake failure.
[Reports by Harold Odhiambo, Niko Tanui, Anthony Gitonga, Erastus Mulwa, Boniface Gikandi and Renson Mnyamwezi]