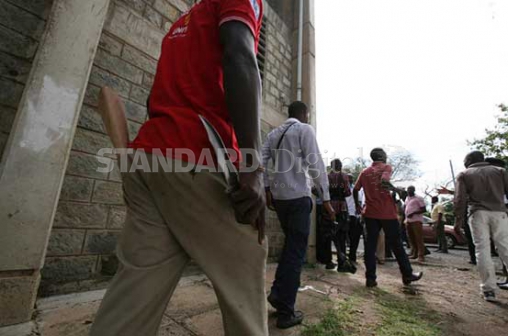 Kenya's political crisis deepened Wednesday when a senior electoral commission official resigned, citing inability of the agency to deliver a credible election next week.
Commissioner Roselyne Akombe's resignation was followed by an admission by Independent Electoral and Boundaries Commission (IEBC) Chairman Wafula Chebukati that credible elections next week were in doubt.
Dr Akombe sent her resignation letter from New York, United States of America, Wednesday morning.
She was part of the IEBC delegation that was to inspect the printing of ballot papers in Dubai. She diverted her flight to the US, casting a shadow on Thursday's election.
Partisan commission
Chebukati's subsequent admission that he was leading a deeply divided and partisan commission only served to compound matters.
His statement that unless certain steps are taken, including changes to the secretariat and compromise by the rival political factions, he could not guarantee credible elections, pointed to the fact that the crisis is likely to get worse.
"The burden placed on me as chairman is huge. Yet, I can't move forward with a divided commission. I can't move forward when presidential candidates refuse to put their personal interests aside and for once, serve their country," Chebukati said.
But President Uhuru Kenyatta and opposition leader Raila Odinga, whom Chebukati insisted must sit with the commission to resolve the impasse, stuck to their hard line positions, cheered on by their respective supporters.
Uhuru, announcing a national prayer day on Sunday, insisted that the elections would go on as scheduled and warned of stern action against those attacking poll officials.
"Whoever will try to stop elections by attacking IEBC officials, firm action will be taken against them. Raila has a right to boycott the election but Kenyans have a right to vote," President Kenyatta told a campaign rally in Nanyuki, Laikipia.
But Raila declared that the National Super Alliance would hold protests on October 26, pointing to a looming confrontation should elections proceed as scheduled.
"Today we are changing our clarion call from 'No reforms, No elections', to 'No Election in October'. IEBC has been taken hostage by Jubilee. Four commissioners are taking instructions from State House. We cannot go to an election with such people in office," said Raila at a rally at Kamkunji grounds, Nairobi.
Legal standing
Akombe's resignation does not affect the legal standing of the commission, according to the IEBC Act, which stipulates that under the circumstances it remains fully constituted and its decisions binding.
"The commission shall be properly constituted notwithstanding a vacancy in its membership," states the IEBC Act.
It adds: "No proceedings of the commission shall be invalid by reason only of a vacancy among the members thereof if a quorum of five is met."
There are six commissioners left. Lawyer Willis Okello confirmed that the commission is still properly constituted even without Akombe, but underscored that the admission by Chebukati that things are thick at the commission is a serious concern.
"This is sufficient and confirms the agency lacks the requisite infrastructure to deliver credible polls," said Okello.