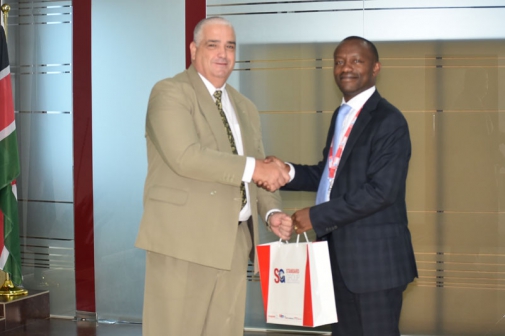 The Cuba Ambassador to Kenya, Permanent Representative to UNEP and UN-Habitat Mr Ernesto Gomez Diaz on Thursday 14 held discussions on partnership areas with Standard Group's Acting CEO Mr Orlando Lyomu. Ambassador Diaz and Mr Orlando discussed ways in which Standard Group Limited can collaborate with the Cuban Embassy to create more awareness and better understanding of Cuba on the Group's media platforms. Amb. Diaz briefed Mr Orlando on the devastation of Hurricane Irma on the Cuban islands and recovery efforts being undertaken. The ambassador said Cuba is looking forward to collaborating with Kenya in the health sector to share its medical expertise as it has done with other countries.
SEE ALSO: KMPDU faults hiring of Cuban doctors
Mr Orlando assured Amb. Diaz that the Standard Group was committed to informing and educating its audiences on world affairs, including political developments, culture and sports, for which Cuba is renowned." Mr Diaz paid a courtesy call on Mr Lyomu at The Standard Group Centre on Mombasa Road. Present during the meeting were Standard Group Digital General Manager, Robert Toroitich, and Group Head of Corporate Affairs, Charles Kimathi. Cuba became a United State protectorate in 1898 after American and Cuban forces defeated Spanish forces during the Spanish-American War. Between 1902 and 1959, many U.S. citizens lived in Cuba or frequently traveled to Cuba. The Cuban economy relied heavily on tourism from the U.S. and Canada.
SEE ALSO: Cuba sends 20 specialists to boost fight against pandemic
The Standard Group Limited is a multi-media organization with investments in media platforms spanning newspaper print operations, television, radio broadcasting, digital and online services, as well as outdoor advertising. The Standard Group is recognised as a leading multi-media house in Kenya with a key influence in matters of national and international interest.