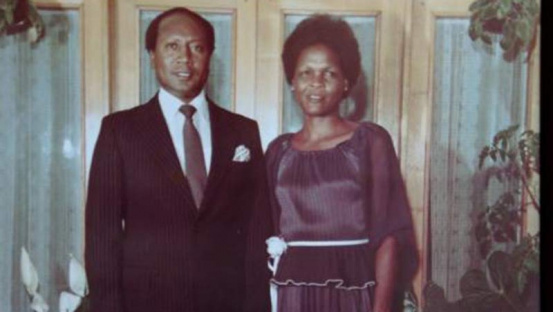 The death of Christabel Ouko has further diminished hopes of ever knowing the people who murdered her husband – former Foreign Affairs Minister John Robert Ouko – 27 years ago. Mrs Ouko died in a road crash along the Kisumu-Muhoroni road on Monday evening that also left her eldest son, Ken, injured. She was travelling from Kisumu where she had attended the swearing-in ceremony of new Kisumu Governor Peter Anyang' Nyong'o. Her body was transferred to Lee Funeral Home in Nairobi from Kericho, where she died after the accident.
SEE ALSO: Man kills daughter after boyfriend's sleepover
Grieving relatives and friends flocked to Mrs Ouko's Koru home in Muhoroni constituency as the village came to terms with her death. Mrs Ouko takes with her loads of secrets about the murder of her husband. As the widow of the former minister, Mrs Ouko, 67, was seen as a key witness in unravelling the identities of people who may have been involved in the kidnapping and eventually gruesome murder of her husband. Dr Ouko went missing from his Koru home on the night of February 13, 1990, after returning from a trip to the US, where he and 84 other Government officials had accompanied retired President Daniel arap Moi for an official trip. His charred body was found at the foot of Got Alila Hill, some 2.8km from his Koru home on February 13, 2017. Next to the body was a jerrycan, a Somali sword and a leather jacket.
SEE ALSO: 544 test positive for Covid-19 as Kenya registers 13 new deaths
For the past 27 years, Mrs Ouko has kept off the public limelight, choosing not to be interviewed by the media. In the few instances she spoke to the media, she only described the virtues of her husband, especially his love for education. Almost all major witnesses and suspects in the Ouko murder mystery have died in a span of 20 years, the latest one being the once powerful Cabinet Minister Nicholas Biwott, who died last month after an illness. Some of those who have died include Hezekiah Oyugi, former powerful Permanent Secretary for Internal Affairs and former Nakuru DC Jonah Anguka. Former Commissioner of Police Philip Kilonzo who investigated the murder and the herdsman Paul Shikuku who found Dr Ouko's smouldering body have also died under mysterious circumstances. Others who have died include Otieno Yogo, Dr Ouko's driver cum bodyguard, Superintendent of Police Joseph Mbogo, who participated in the initial investigations and a Special branch officer, Hannington Ochwada, Ouko's close friend, among many others.