Elections Observation Group releases parallel presidential results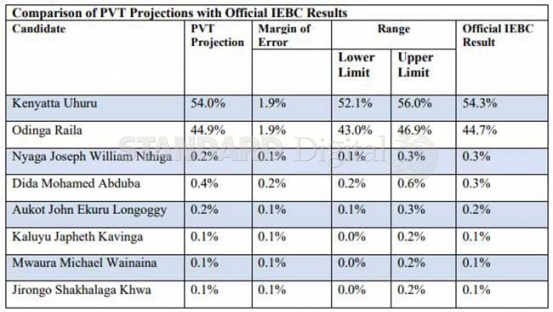 Elections Observation Group (ELOG) has released results of its parallel tallying after analysing reports from 98.9 per cent of its Parallel Vote Tabulation (PVT) observers from 1,692 polling stations out of the more than 40,000 polling stations in Kenya.
ELOG's estimates are consistent with the IEBC's official results for the 2017 presidential election.
According to results by ELOG, President Uhuru Kenyatta had 54.0% of the votes while NASA presidential candidate Raila Odinga had 44.9% as compared to official IEBC results of 54.3% for Uhuru and 44.7% for Raila.
Margin of error in the ELOG survey was at 1.9%.
However, ELOG noted that it's only IEBC that is constitutionally mandated to announce and declare the final, official results of the elections.
ELOG reports indicated that voter education was not comprehensively undertaken in all the constituencies in the country.
On party primaries, ELOG noted that all the major political parties conducted shambolic nominations in April this year.
According to ELOG, voting process generally went on smoothly across the country with isolated incidences of irregularities reported. For instance, in 7.6% of the stations, the Kenya Integrated Elections Management System (KIEMS) failed to function properly.
NASA agents were present in 84% of all polling stations where they signed declaration of presidential results in 93.8% of these polling stations.
Jubilee party agents were present in 92.3% of polling stations and they signed the presidential results in 95.8% of the polling stations.
To fight drought, involve communities
According to the latest information from the Meteorological Department, rainfall will be poorly distributed in April, May and June, and this will have a serious impact on agriculture