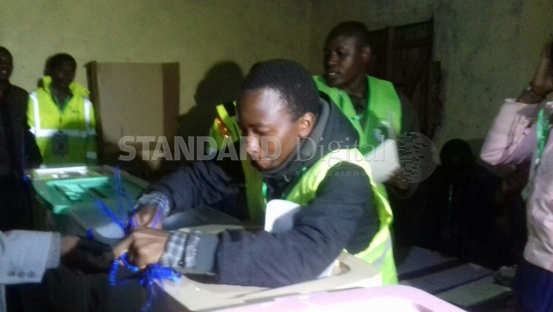 Voting at Riambase Primary School polling station, Kisii County was delayed for more than 40 minutes. This is after polling clerks wrongly sealed ballot boxes forcing them to open the boxes more than twice.
Orange Democratic Movement (ODM) Woman Representative candidate Ms Janet Ongera who was voting at the station was forced to remain standing while waiting for IEBC polling clerks to sort out the mess. Ms Ongera finally voted a few minutes to 7am.
"We expect a perfect job from IEBC. They have acted soberly during the campaigns and we expect them to remain above board," said Ms Ongera.
Ms Ongera's main challenger Mrs Doris Donya of Jubilee was also the first to cast her vote at Itierio Primary. She exuded confidence in winning the seat saying, "Everything is moving on well and we call on our opponents to remain calm and stop spreading propaganda."
At the Gusii County Hall polling stations in Nyaribari Chache voters were forced to wait for one hour as polling clerks struggled to get to work the Kenya Elections Management System kits. Gusii County Hall has three polling stations with 700 voters each.
Read More
Kisii Governor James Ongwae (ODM) cast his vote at Rioma Buying Center even as the area continues to receive minimal voter turnout.
"I am optimstic that Kisii county residents will find it noble to give me a second chance. We have done enough to allow us get a second chance," said Ongwae.