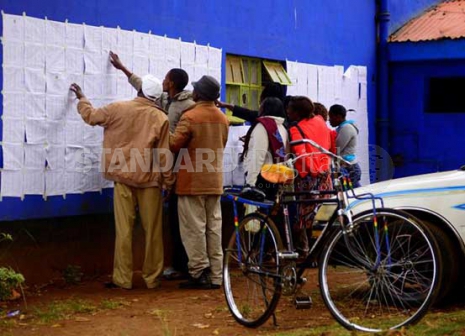 Electoral commission officials are struggling to keep the number of agents in tallying centres low.
Those who spoke to The Standard said dealing with hundreds of agents was their greatest challenge, adding that they were contemplating locking out those whose names did not appear on their list.
In Dagoretti North constituency, for example, Returning Officer James Maina said the number of agents from different political parties was more than the law permits.
The Independent Electoral and Boundaries Commission (IEBC) permits only one agent per party per polling station. But in Dagoretti North, each of the 16 parliamentary candidates demanded admittance for their individual agents.
Read More
Commission officials however remained confident that they would deliver on one of the most hotly contested polls in the country's history.
Final touches
At Bomas of Kenya, the national tallying centre, IEBC officials were busy ensuring that everything was in place.
By the end of the day, the centre was ready to host today's elections that will see 19.6 registered voters participate in picking their next crop of leaders.
Yesterday morning, former United States Secretary of State John Kerry met with IEBC commissioners to discuss the preparations.
Mr Kerry, who is heading a team of observers from the US, expressed his satisfaction with the level of preparedness and called for patience during and after the voting process.
"The commission has done an extraordinary job in a short period to ensure that the country holds free and credible elections. We wish everybody well," he told journalists after the meeting.
Kenya Power has provided two standby generators in case of a power outage at the national tallying centre, and assured IEBC that there would be no power interruptions at Bomas of Kenya or the regional tallying centres.
The commission also has helicopters on standby to deal with any emergencies that may arise during the exercise.
A total of 45,000 Kenya Integrated Elections Management System (KIEMS) kits have been deployed to the 40,883 polling stations spread across the country.
In each of the 1,450 wards, there will be three KIEMS kits on standby in the event of existing ones breaking down.
The tallying, verification, announcement and declaration of presidential results at Bomas will be done between today and August 14.
Local and international journalists had a busy day yesterday assembling transmission centres ready to broadcast the poll results to the world.
The journalists are already assembled at Bomas after receiving accreditation from IEBC.
Heavy rains
In Kisii County, heavy rains could hamper the transportation of election materials before and after the exercise.
By noon yesterday, most vehicles hired to ferry election materials had not left for the polling centres because of poor roads. But County Returning Officer Sydney Namlungu said everything was on course for the polls.
In Bomet County, IEBC County Manager William Ndung'u said election materials had already been released to the five constituency tallying centres for onward transmission to polling centres this morning, and 1,456 security officers deployed to the polling stations.
The county has 728 polling stations and 322,012 registered voters.
Mr Ndung'u also said satellite transmission gadgets had been deployed to all the tallying centres.
In Central Kenya, security was beefed up to ensure that voting goes peacefully.
Command centres
"We have set up five command centres that are located in the five counties to offer a multi-sectoral response in case of any eventuality," said Central Regional Co-ordinator Ann Ng'etich,
She said the security agencies would also focus on protecting key installations in the region, including dams and major highways.
In Narok, IEBC County Elections Manager Anastasia Mutua said everything was in place for the elections.
"We have had no challenges," she said.
[Moses Nyamori, Gilbert Kimutai,Robert Kiplagat, Lydiah Nyawira, Eric Abuga and Stanley Ongwae]