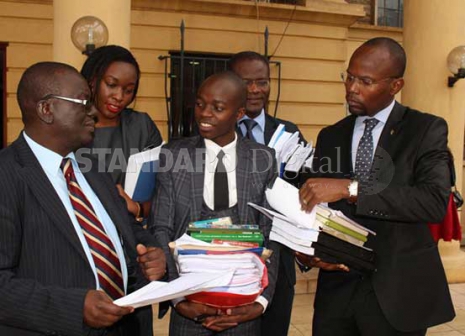 The Kenya Defence Forces (KDF) has said that it will not play any role in security operations during the elections.
As a result, National Super Alliance (NASA) has withdrawn an application it filed in court to stop deployment of KDF personnel to maintain peace during and after the elections.
High Court judges Joseph Onguto, Chacha Mwita and Roseline Aburili endorsed the coalition's decision to withdraw the prayer, but said they will proceed to hear and determine the circumstances under which the military can be deployed.
"The petitioner states that they are satisfied with KDF's response and assurance that there is no intended immediate deployment of the military during the elections. The question of when the military can be deployed is however contested and we will proceed to hear it," ruled the judges.
Read More
NASA had claimed in the application that the Government was planning to deploy military personnel to certain areas they consider as their strongholds to scare away voters in disguise of carrying out security operations.
The coalition argued that deployment of military in specific areas without the approval of Parliament is illegal and aimed at intimidating voters and denying them the right to vote freely.
But KDF's Chief of Operations Fredrick Lokia swore that there was no directive or any order for the military to disenfranchise Kenyans during the elections, adding that both the Defence and Interior Cabinet secretaries have no powers to deploy the military under any circumstances.
"The KDF is well aware that it has no role to play in the management and conduct of the General Election. However the need to protect and safeguard the maintenance of national security remains an enduring tenent that cannot under any circumstances be abdicated," swore Brigadier Lokia.
He denied NASA claims that a joint security drill dubbed "Dumisha Utulivu" which was conducted between June 9 and June 23 was meant to prepare the military to take part in the elections, saying KDF was only training the police on how to handle any situation.
NASA had alleged the security operation, which took place at Embakasi Barracks, was aimed at giving the military, police, and county commanders skills on how to interfere and influence the outcome of the elections.
According to Lokia, the drill was necessary to help the police prepare for scenarios which require joint response to overwhelming threats to national security.
He defended a statement by Chief of Defence Forces Samson Mwathethe during the exercise that the military can only assist the police if the situation escalates.