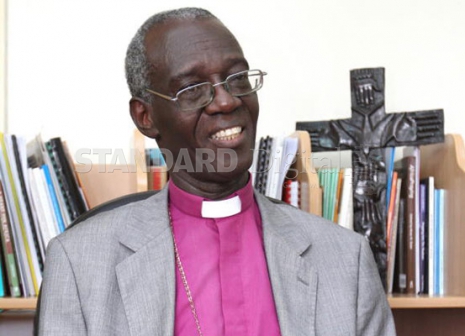 African Brotherhood Church Archbishop has endorsed retired Anglican Church Archbishop Eliud Wabukala to head Ethics and Anti-Corruption Commission. Addressing Journalists at ABC headquarters in Machakos town, Archbishop Timothy Ndambuki said the only worry is that Wabukala has been given an agency that deals with criminals. "I know Wabukala for being intelligent, straight forward and humble, my only fear is that he has been taken to deal with criminals, corruption is another name for crime confirmation," Ndambuki said. He added that Wabukala will face challenges such as hunting corrupt cartels that can tarnish his name.
SEE ALSO: Revenue impasse needs an economic solution
"Since one must have a following and network in corruption, give Wabukala the law as well as good governance therefore he will fight corruption," Ndambuki said. Ndambuki said Kenya lost its law since the launch of the blueprint in 1963 where the law was not followed to the latter adding that those who headed EACC in the past were capable but there is no law protecting them. "The only problem in Kenya is that we do not follow the laws we pass and that is why most of our leaders are failing. Like now Kenya has gone to the extreme of capitalism," ABC Archbishop said. He called upon politicians to avoid bloodshed in campaigns as it was witnessed in Kitui demos where a former mayor lost her life. "As church we strongly condemn cases of bloodshed during campaigns and demonstrations. This shows that we are deviating from the fear of God and our cultures," he said.
SEE ALSO: Tributes pour in for ex-principal