Attorney General Githu Muigai moves to save Interior PS Karanja Kibicho from 3-month jail term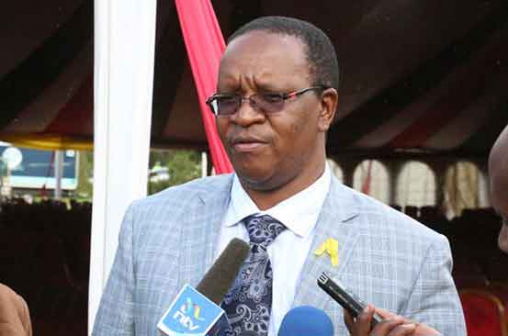 Attorney General Githu Muigai has appealed against a High Court ruling that sentenced Interior Principal Secretary Karanja Kibicho three months in jail.
On Tuesday, Justice George Odunga ordered the PS jailed for disobeying court orders.
Mr Muigai in his notice filed at Milimani Law Courts stated that his office was dissatisfied with the ruling.
"The AG wishes to appeal against the court's decision to jail the PS pending hearing and determination of the appeal to be filed at the Court of Appeal," the AG stated in the court papers.
Justice Odunga ruled that the PS was guilty of not appearing in court to show cause why he should not be punished for failing to comply with a court order to pay Michael Danson Mahugu, a former Nyayo House torture victim, Sh2.6 million.
He said that having been summoned severally and even after a warrant was issued against him, the PS did not bother to respond.
Odunga then directed Inspector General of police Joseph Boinnet to immediately arrest the PS and send him to prison.
The judge said there has been a warrant of arrest against the PS which the police failed to execute.
Take a quick survey and help us improve our website!
Take a survey
Kibicho had been ordered to appear in court on November 28 2016, but did not show up.
The warrant against the PS was first issued on October 13, 2016, after he refused to comply with the court order issued on December 5 2015 compelling him to pay Sh2.647,019 to the victim of Nyayo House torture.
Lawyers say Inspector General of Police Joseph Boinnet risks being cited for contempt of court if he fails to arrest Dr Kibicho.
"The court order is bigger that the judge who issued it or the person it is directed to. The IG has no option but to arrest Mr Kibicho, failure to which he too should be cited for contempt and be jailed," said Law Society of Kenya council member, Edwin Sifuna.
Mr Sifuna added that the order to jail Kibicho was not about respecting Justice Odunga but respecting the rule of law which everybody is required to obey.
Former LSK boss Eric Mutua argued that senior government officials disobeying court orders were setting bad precedence.
"Courts are right when they issue those orders to protect their integrity. It does not matter who you are, we must follow the law. I think we should have a special police department to carry out the arrest if the IG feels he cannot enforce the orders," said Mutua.
It, however, remains to be seen if Kibicho will end up in prison or get away with the judgment.
We deserve better than Raila Odinga and Uhuru Kenyatta
We are a nation in the process of short-changing itself. That is why we must resist being swept in the wave of mediocrity currently sweeping through this country. We Kenyans, it seems, insist on living as though we were on a death row. Nothing matters for them except for today