Promote me and I'll retire in peace, police officer pleads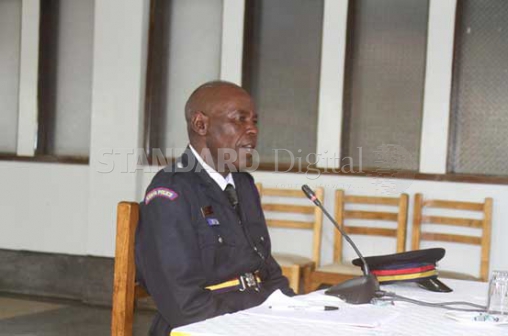 A 57-year-old traffic officer has pleaded with the National Police Service Commission (NPSC) to consider promoting him before he attains the mandatory retirement age of 60 years.
Joseph Gichuru, a police constable based at Kericho traffic base, said promotion would help him retire in peace after serving for a long time.
Mr Gichuru said he had been yearning for promotion since he joined the service three decades ago but this had not happened despite him being a dedicated and disciplined officer.
"I have worked for many years stagnated in the same position. I would like to return home even as a corporal. I have even seen my children join the service and get promoted," he said.
Gichuru said he had also been in charge of operations and restoring order in various parts of the country that saw him be recommended for promotion that has not been forthcoming. He informed chairman Johnstone Kavuludi and his panel that in 2012, he was recommended for promotion but was never promoted and did not receive a clear reason.
Colleagues who were recommended for promotion at the same time progressed, leaving him feeling demoralised. Mr Kavuludi assured him that the commission would look into the matter.
"We shall find out what happened with your promotion recommendations and get back to you soon," said Kavuludi.
FURTHER STUDIES
Gichuru, who has a Kenya Junior of Secondary Education certificate, said it was unfortunate that a tight work schedule did not allow him to enroll for further studies.
Another officer, Titus Mwene Etyang'a, asked the commission to look into the promotion of officers in the service. He said it was unfortunate that the majority of officers had stagnated in the same positions, which demoralises them and affected their performance.
"I am very grateful to meet the panel. I look forward to getting a top job," he said.
The constable has a diploma in criminology and is currently studying for a degree in security management.
And during the vetting in Nakuru of Constable Hellen Owala, Kavuludi asked traffic officers to treat every driver with respect.
"Some of these drivers are prominent people and they know their rules. If you don't treat then with respect, you might end up landing in problems," he said. "You should always listen to the motorists; some people take a long time before driving and don't even realise when they have passed the limit by one or two," he added.
Constable Owala responded that some motorists were not easy to deal with.
"Some drivers are arrogant and don't want to co-operate. At times we are forced to arrest them and let the courts handle them," she said.
Owala was, however, commended for being conversant with traffic rules that govern traffic officers.