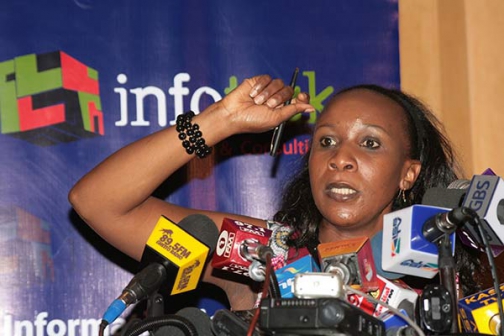 Only 18 per cent of Kenyans are satisfied with the implementation of the Constitution exactly six years since it was promulgated, a new poll by Infotrak shows.
The new survey shows right to peaceful demonstration, devolution and public participation in legislation are three aspects of the law under threat, according to a majority of Kenyans.
This was exhibited by 47, 45 and 43 per cent of Kenyans respectively, with others citing independence of Kenyan institutions (36 per cent), right to access information (36 per cent) and freedom of association (30 per cent) as the other bigger threats.
The Constitution was promulgated on August 27, 2010, giving Kenyans high hopes for major reforms in public institutions.
According to the poll, despite 82 per cent of Kenyans citing how important the implementation of the Constitution is to them, only 18 per cent are satisfied with the process so far.
Read More
This is attributed to the numerous amendments to the Constitution, which are slowing the implementation.
The poll was released yesterday by Angela Ambitho's Infotrak in partnership with Africa Centre for Open Governance (Africog) and Kenya for Peace with Truth and Justice (KPTJ) as the country marks six years since the promulgation of the 2010 Constitution.
A sample of 1,500 Kenyans from all former eight provinces were interviewed between May 31 and June 18.
"Even if we had passed all laws, there would still be need to make amendments as the country matures. But quite clearly, we have failed from our past," said Africog Executive Director Gladwell Otieno.
Amendment of laws to give the President more powers to appoint the Inspector General of Police (48 per cent), and that to appoint the Chief Justice and other senior judges (44 per cent) were some of the legislation that made Kenyans feel their democratic rights are threatened.
This was the same with the amendment of the law to restrict rights and freedoms for security reasons (43 per cent), increase allocation to county governments (35 per cent), reduce elective and appointive positions (33 per cent) and the controversial amendment to reduce counties and constituencies (33 per cent) that was later thwarted in Parliament.
"But what comes out clearly in such amendments (some of which were never passed) is that not only Kenyans but also parliamentarians do not understand the Constitution clearly," said Ambitho.
Some 48 per cent are neither satisfied nor dissatisfied with the Constitution implementation, with 29 per cent clearly not satisfied.
About 12 per cent of those polled feel satisfied with electoral reforms as the biggest benefit of the current constitution.
The report on the reforms, which was passed by the National Assembly on Thursday, sent the Independent Electoral and Boundaries Commission (IEBC) members home in a deal agreed upon by the commissioners, Jubilee and CORD.
"Ideally, reforms create winners and losers. Every time there is change, it is not necessarily motivated by bad intentions as many would perceive. Some of the reforms are just new ways of doing things, which usually still get some resistance," said Otieno.
"Of course some (leaders) propose reforms just to retain power and avoid being accountable."
More than those polled (51 per cent) identify devolution as the 2010 Constitution's biggest stride.
Other big benefits brought about by the constitution, according to Kenyans, are improved individual rights (33 per cent), democracy (17 per cent) and improved leadership integrity (15 per cent).
"Land reforms and establishment of constitutional commissions were the fifth most important benefit mentioned by 14 per cent of Kenyans followed by judicial reforms at 13 per cent," reads the survey.
Ambitho said: "There is no doubt the Constitution has gained prominence even to those who previously opposed it."
According to the survey, devolution (57 per cent), national security (42 per cent) and leadership and integrity(35 per cent) are the three areas Kenyans feel the constitution implementation process should focus more on.
Other areas cited are the bill of rights (34 per cent), focus on women, youth and the disabled (32), public finance management (29), and land reforms (24).
The survey further noted the wanting state of public participation, despite it being a constitutional provision with 73 per cent of Kenyans stating how difficult it is to participate in county planning and budgeting.
Some 76 per cent find it difficult to influence county decision making, while 74 per cent find it hard to access information on county budgets, legislation and projects plans. About 78 per cent find it difficult to participate in the amendment of county and national laws.
"Public participation is not putting some advertisement on the papers. That is more of a gesture than public participation," said Otieno.
"It was evident during the survey that some issues such as amendment of laws need time, which the adverts do not provide for."