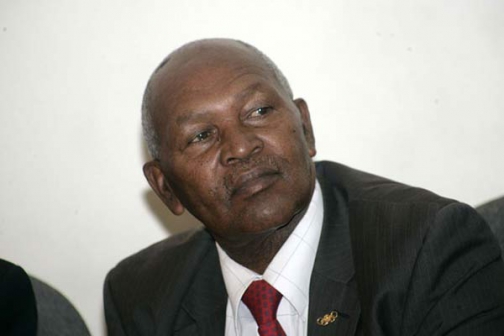 National Olympic Committee - Kenya chairman Kipchoge Keino has maintained silence over the disbanding of his committee and the claims that he deliberately misled the public by disowning a coach in the Kenyan contingent to the Rio Games.
Yesterday, repeated calls to Mr Keino's phone went unanswered, while workers at his shop in Eldoret town said he had not appeared since the team returned from Brazil this week.
The NOC-K offices on Mombasa Road were also locked and no workers were present when The Standard on Saturday visited the committee's first floor office in the 2000 Plaza.
Sports Cabinet Secretary Hassan Wario disbanded the committee on Thursday and called for investigations into the Rio games saga. However, committee secretary FK Paul immediately said the ministry has no power over the committee and cannot disband it.
Keino has presided over one of the most notorious NOC-K administrations since his predecessor Charles Mukora was removed, following his ejection by the International Olympic Committee where he was a member. Mukora was removed over allegations of bribery during Salt Lake City's bid for the 2002 Olympics.
Read More
Athletics Coach John Anzrah said Keino had deliberately misled the public by stating that he was not part of the athletics coaching staff.
Anzrah, who was sent home for allegedly posing as athlete Ferguson Rotich in Rio, said Keino knew too well his role as sprint coach.
"When I first arrived in Rio, I met Dr Kipchoge Keino whom I congratulated for bagging the International Olympic Committee (IOC) Laurel Award. He was grateful for the gesture and even told athletes that I was an athlete in 1984 when he was a coach," said Anzrah, a semi-finalist in 400m at the 1984 Los Angeles Olympic Games.
Keino said NOC-K had not facilitated Anzrah's travel to Brazil.
"We don't even know how he came here. We cannot tolerate such behaviour," he told BBC.
Anzrah was among track and field coaches selected to prepare the athletes for the Rio games at IOC High Performance Training Centre (HPTC) at Kipchoge Keino Kazi Mingi Farm in Eldoret.
At this residential training where he stayed with a team for a month, he would often meet Keino at the camp and sometimes at the Kipchoge Keino Stadium, named after the NOC-K chairman.
This week, Wesley Korir, the Team Kenya captain and Cherangany MP, said he would table a Bill in Parliament to petition Sports Cabinet Secretary Dr Hassan Wario to step down, following mismanagement of the Olympics team in Brazil.
"I will ask National Assembly Speaker Justin Muturi to give us a chance to have a good discussion on issues affecting athletes, especially at the Olympics.
"It's easy for MPs to go to Rio and write a report. But now that I am in the team, I will present my first-hand experience in the national team," he said.