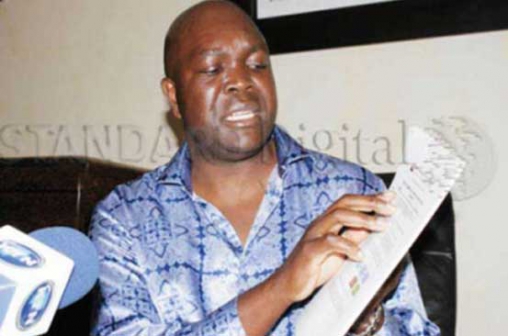 Jacob Juma was planning to flee Kenya and settle abroad in the weeks leading to his murder, new evidence shows. He was also in constant communication with businessman Jimmy Wanjigi about the Eurobond saga, exchanging new information about goings-on at the National Treasury and the Central Bank, which he later found posted on social media.
Interviews with a wide range of Juma's friends and associates – some backed up by documents, SMSs and WhatsApp records – paint a picture of a complex, multi-layered individual in the middle of many wars, but who readily rushed to the aid of friends with cash handouts.
Juma was gunned down by suspected assassins on May 5 as he left Westlands for his Karen home. The man, who had publicly and repeatedly said his life was in danger, breathed his last after his killers, satisfied with their latest hit, rode away into the cold drizzly night on a motorcycle.
His death galvanised the Opposition and his friends into alleging that Juma's death was State sanctioned, a claim the Government denied.
Among the first respondents to news of his death was his close confidant Wanjigi, who is said to have enjoyed immense power and influence in previous regimes. Before Juma's death, Wanjigi kept off the limelight, with few people knowing about the billionaire.
Read More
He was also fingered in the WikiLeaks papers as a person of interest in a network of corrupt government officials and private sector deal makers who has systematically stolen or attempted to steal millions of dollars from the government.
As investigations pledged by the Government into the killing of the 45-year-old businessman became shrouded in silence, The Standard on Sunday set out to establish what may have been the motive of his killers and what kind of person Juma really was.
According to most people he dealt with, the Eurobond saga dominated Juma's life in the months leading to his killing by gunmen who to this day have not been identified or any suspect arrested.
They testify to Juma's bold posts on Twitter and Facebook, in which he offered tidbits of information about the movement of the money, Government "cover-up" efforts and the people he suspected to be behind the affair. The Standard on Sunday was told that even though he displayed much bravado and table-banging arrogance, in private Juma could be deeply anxious and seems to have been planning to flee Kenya and settle abroad.
From March this year, perhaps weighed down by the stress of being monitored, Juma actively began to look for property to buy outside Kenya. His search for a house took him to New York, London, Los Angeles, as well as Cape Town, South Africa.
Property agents he had contracted to scout for suitable homes said he had specific requests for what he wanted, at some point authorising the agents to "do all they could" to convince the owners of properties he was interested in to sell.
Over the last 10 days, Juma was in repeated communication with several high-ranking individuals in Kenya, including senior politicians, activists, prominent businessmen and judicial officers.
One of the last people he was in touch with by phone a few hours before his death was his close friend Wanjigi. This might explain the businessman's grief and shock over Juma's murder.
The two, according to our sources, talked for close to 10 minutes. Wanjigi was later to call Juma some minutes to 4am, by which time most of the country had learned of Juma's death. The two were more than just friends. Although the world believed Juma was his own man, it appears that Wanjigi influenced some of what Juma posted on his popular Facebook page and on Twitter and had views about the numerous court battles his friend was involved in.
Apart from sending Juma documents on various subjects, Wanjigi was also known, at times, to send Juma the specific things he wanted posted and in exact wordings. In one instance, he informed Juma that, "the Thika-Nairobi transmission line (2012) was sponsored by the Germans, and yet treasury has the audacity to say they gave Ketraco Sh35 billion of Eurobond money to spend on it. They also claim that GDC was given Sh1 billion towards its Baringo project, but top honchos there say there is nothing. Hi pesa ilikulwa (This money was embezzled)."
Juma went ahead and posted it, after which Wanjigi acknowledged, having seen it. Juma's other friends say the relationship between the two men had a master-servant undertone. For instance, on one particular instance, Juma fumed at his friend for keeping him waiting at his offices for hours and eventually not showing up.
"Ndugu, how are you? You give me appointments and refuse to pick calls, why? I really like when people I consider as friends tell me the truth. I feel let down by you. Enjoy your day," Juma said.
Just as Juma was fed information by influential people, he too did the same to bloggers who backed him in many online confrontations. There is evidence that he dictated and typed out to bloggers what he wanted put up in social media, mostly at a fee. His outspokenness brought him in direct collision with some of Kenya's most powerful politicians. Apart from his much publicised tiff with Deputy President William Ruto, Juma often reached out to politicians or those close to them.
In February, Juma reached out to the daughter of a top Opposition leader. According to our sources, the two were in discussion on how best to further expose the multi-billion shilling Eurobond scandal. From her, Juma wanted unfettered access to the woman's father.
Friends showed records suggesting that Juma was not only involved in the day-to-day planning of political matters in some Opposition parties, but was also called upon to fundraise for their causes.
In late April, a CORD agent reached out to him to help foot the bill for hosting pro-opposition bloggers at a city hotel.
"Good morning Jacob. I did express to you my concern about the disorganisation of our online team and my desire to sit with them and try to create some focus. I wanted to meet these people on Friday. But as you know they are materialistic. Could you support me to buy them at least lunch," the agent wrote.
Other acquaintances shared a softer and more humane side to the slain businessman, a side that painted the picture of a man living in fear of being killed.
A female confidante said how even the minute noises during phone calls would send the 45-year-old into a rage.
"These gangsters are listening to my phone. This is what I have to deal with," Juma told her before apologising.