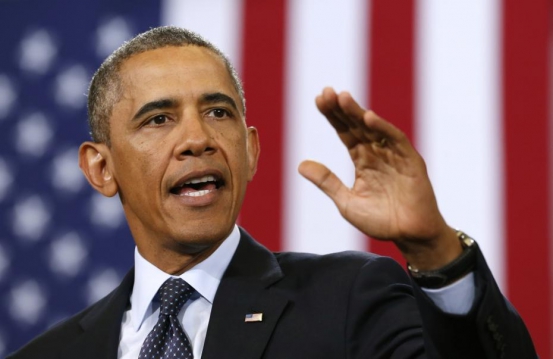 With less than two weeks to US President Barack Obama's historic visit to Kenya, the Government and the Opposition are sparring to control his agenda.
The ruling Jubilee coalition is accusing the Coalition for Reforms and Democracy (CORD) leaders of trying to take advantage of Obama's visit to project the government in bad light.
Corruption in Government and the management of the next general election in August 2017, are some of the top issues the two sides differ sharply about.
In addition, the place of homosexuality in Kenya seems to be driving a wedge between State House and Deputy President William Ruto.
The itinerary of President Obama's visit for the Global Entrepreneurship Summit has so far remained a tightly guarded secret.
Read More
Although it is known that he will arrive in the country on the evening of July 24, it is not yet clear how many days he will be staying before flying to Ethiopia.
When asked about it, Foreign Affairs Cabinet Secretary Amina Mohammed said President Obama's itinerary will be communicated next Friday.
"Who said US President Barack Obama's visit will be for eight hours? It could be for a longer period or even shorter. Until we receive full itinerary and programme from the US Government, whatever is circulating in the media is hearsay and speculation," she said.
Nonetheless, the Government has launched an early offensive on the Opposition, which it accuses of trying to capitalise on Obama's visit to portray the Government in bad light.
"CORD is trying to set an agenda for Obama so that he can lose focus on what he is supposed to do here," said the Leader of Majority in the National Assembly, Aden Duale.
"They want him to talk about IEBC, corruption and such things yet these are things that are handled by independent institutions," he said.
In recent times, the Government and the Opposition have differed sharply over the faltering fight on corruption and over the planned reforms at IEBC.
CORD accuses the Government of being insincere in fighting corruption and has accused IEBC of being partial and acting as an extension of the Jubilee government.
Naturally, the Opposition would call on President Obama to press President Kenyatta to do more to address these issues when they meet.
This week, CORD threatened to boycott the next General Election, saying it was sidelined by IEBC when it launched its 2015-2017 strategic plan on Thursday.
"There are problems in Burundi, South Sudan, Uganda, Somalia and so on. By threatening to boycott the next elections, they are trying to scare Obama into fearing a repeat of the 2007 clashes," said Mr Duale.
However, CORD leader Raila Odinga said he had no secret agenda to share with Obama, though he could not comment on whether he was scheduled to meet the US President.
"We have no secret agenda. I am not a mad man. I cannot create disorder. On NYS (National Youth Service), we are not opposed to the projects that uplift the youth. However, we are concerned that the youth projects are being used as a conduit for corruption," he said yesterday in Kisumu.
Mr Odinga has accused President Kenyatta of not doing enough to fight corruption at NYS, which he has labeled as a massive scam to siphon public money.
Furthermore CORD has claimed that Devolution Cabinet Secretary Anne Wiguru, in whose docket NYS falls, is favoured since she has not been suspended like her colleagues who were forced to step aside over corruption allegations.
Raila added that the Opposition's aim with IEBC is to see the institution "reformed to seal all loopholes so that we confidently go to the next elections".
Given the prominent role that the US played in resolving the 2007 post-election violence, electoral reform is conceivably one area President Obama would be interested in talking about with Kenyan leaders from both sides.
Besides the Opposition, President Kenyatta has to contend with his deputy Ruto, who is diametrically opposed to President Obama's position on the rights of homosexuals.
On Sunday last week, while attending a church service in Nairobi, Mr Ruto launched what was widely seen as a broadside against President Obama. "The Republic of Kenya is a republic that worships God. We have no room for gays and those others," Ruto told a Nairobi church congregation in Swahili.
"God did not create man and woman for a man to come and marry another man. We believe in God. This is a God-fearing nation and we will be firm on what is right," he added.
Gay rights is one of the key achievements of the Obama presidency and by taking such a diametrically opposing view, Ruto's sentiments ran the risk of embarrassing both President Kenyatta and his high-profile guest.
Soon after the DP spoke, State House spokesman Manoah Esipisu quickly released a press statement that largely contradicted Mr Ruto's position. "The Government believes in freedom of expression as enshrined in the Constitution and respects the position taken by the US Government on gays following a ruling by the country's Supreme Court that same-sex unions will be recognised. As Kenyans we believe in freedom of speech. We cannot tell Obama what he can or cannot say during his visit to Kenya," read Mr Esipisu's statement.
It is instructive that Mr Ruto's denunciation of President Obama was followed by anti-gay demonstrations in Nairobi, led by Kiharu MP Irungu Kangata and Kikuyu MP Kimani Ichung'wa.
Both had attended the DP's church service and on Monday they led demonstrations in which some of the participants displayed placards that read "No Obama Obama, No Michelle Michelle!"
The White House also followed with a comment saying that as the leader of the free world, President Obama is free to talk about anything that is in the interest of the US wherever he travels to.
"I'm confident the President will not hesitate to make it clear that protection of fundamental human rights is also a priority for Kenya, something we hold dear here in the United States of America," said Joshua Earnest, White House Press Secretary.
"We have been clear that as the President travels around the world, he does not hesitate to raise concerns about human rights," he added.
In light of Ruto's views, it is not yet clear whether he will meet President Obama, although if the past is anything to go by, it is highly unlikely.
When the US Secretary of State John Kerry visited the country in May, the DP was conspicuously absent from his meetings and generally kept a low profile.
Complicating matters further is the fact that Mr Ruto is still facing criminal charges at the International Criminal Court, which makes it difficult for him to meet a leader of a country that styles itself as a beacon of democracy and rule of law.
Generally, Ruto has had an uneasy relationship with US officials. A US State Department memo that was released by the anti-secrecy website Wikileaks in 2011 lays bare this difficult relationship.
During a meeting on May 2, 2009 between Mr Ruto, then the Agriculture minister in the Grand Coalition government and US Undersecretary for African Affairs, Johny Carson, and US ambassador to Kenya, Michael Ranneberger, the US officials came out less than impressed on Ruto's reform credentials.
"Ruto was unable to offer significant steps on reform that could be accomplished in the next three months. What he did expose again was his extreme sensitivity to the establishment of any kind of tribunal and his willingness to protect his own community regardless of the cost to the country as a whole. We do not expect Ruto to serve as a positive agent of change in the coming months," concluded the two high ranking US government officials.
In the run up to the last general elections, the US and the West seem to have thrown their lot with the Opposition. At the time, they seemed spooked at the prospect of two men facing serious criminal charges at the ICC being elected to lead one of the strategic countries in Africa.
Mr Carson went as far as cautioning Kenyans that "choices have consequences," which was widely interpreted to mean that Kenya would be punished for electing the two ICC suspects.
By the end of the polls, their worst fears were confirmed but in the realpolitik that govern international relations, the West moved fast to embrace the new government.
Therefore, Obama will be walking a tightrope in Kenya, trying to balance his role as the leader of the most powerful and democratic country in the world and the ethnic politics of his father's land.
Should Obama berate the government on issues such as corruption, his position is likely to be interpreted by a section of Kenyans to mean that he is pandering to one side of the political divide. And if this happens, he will, unwittingly, be inserting himself in to the morass of Kenya's tribal politics.
If he doesn't, another section of Kenyans would see his visit as a mere face-saving tour to mend relations with the government following his initial position on the UhuRuto presidential ticket.