First Lady's Half Marathon receives Sh160 million boost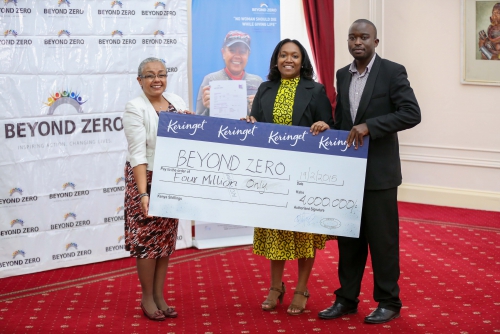 Nairobi, Kenya: More counties will soon receive fully-kitted Mobile clinics from the Beyond Zero Campaign. This is after the First Lady's Half Marathon on Friday received a major boost of Sh160 million from different organisations.
This year's marathon, which is scheduled for March 8 at Nyayo Stadium, received Sh12 million from Bank of Africa – money which has already gone to the purchase of a mobile clinic . Other entities have also presented their cheques to the First Lady's office at Statehouse.
Among those who extended their olive branches is Roy Kiruri, a 16 year-old Kenyan swimmer based in South Africa who through own initiative managed to raise Sh500,000 for every kilometer he swam at the recently concluded 1600 metre Midmar Mile open-water event in South Africa.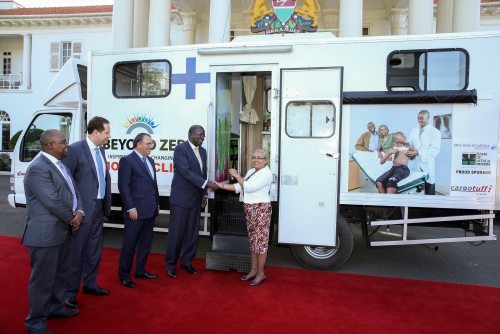 The Beyond Zero Campaign championed by the First Lady, Margaret Kenyatta, aims at raising Ksh600 million shilling that are intended to acquire 27 Fully kitted mobile clinics, to be distributed to 27 counties that are yet to benefit from the proceeds of the first half marathon.
The race which seeks sponsorship for the Beyond Zero Campaign will also feature a wheelchair race for the physically disabled and targets to bring together 40,000 participants. Already, 3,000 individual participants and 100 corporate teams have so far registered.
Last year's edition garnered Sh200 million that has so far bought 20 Mobile clinic with 19 already distributed to various counties based on the intensity of HIV/AIDs, maternal mortality and child mortality burden.
Statistics show that 108,000 children die in Kenya every year before their fifth birthday. It also indicates that there are 72,000 infant deaths in Kenya annually.
In preparation for the half marathon, the First Lady was Friday joined by female media personalities in a morning training session at State House before proceeding to Iten for high altitude training.
Yemen's former president released from house arrest
Yemen's former president Abd-Rabbu Mansour Hadi left his official residence after weeks of house arrest by the Houthi militia on Saturday and flew to his home town of Aden, witnesses and a political source said.