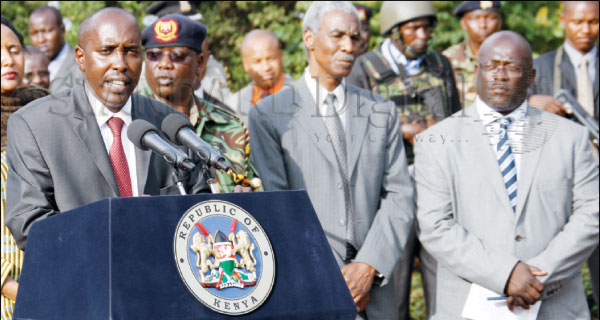 State defends NIS over Westgate terror attack Photo: STANDARD
By ALLY JAMAH
Nairobi,KENYA: The government has defended itself from accusations of intelligence failures that resulted in the horrific killings by the Al-Shabaab terrorists at Westgate Mall.
Interior Ministry Principal Secretary Mutea Iringo yesterday said the State intelligence agencies have prevented many terror attacks in the recent past noting that the Westgate killings are "unfortunate" since it was among the "few instances" in which the killers had outsmart government agencies.
"Over the last few years, since terrorism became a major threat to the country, we have been receiving information about possible terror incidents. We have pre-empted many of them behind the scenes without telling Kenyans. It is unfortunate that the Westgate attacks happened," he said.
Read More
Iringo declined to confirm whether the government received any specific intelligence on the Westgate attack from Nairobi Senator Mike Sonko, who has claimed that he had forwarded the information to the National Intelligence Service (NIS), which refused to act on it.
On Monday, President Uhuru Kenyatta also defended the intelligence-gathering agency against criticisms of failure saying they have successfully prevented attacks in the past and should be strengthened with more resources and skills to do a better job.
A July 19, twitter posting by the Al-Shabaab group seemed to suggest that the group was planning a massive attack on Kenyan targets. The posting, on the harsh tag @HSMPress Office read: "A spectacular Al-Shabaab attack with fifty plus deaths and guaranteed extended media coverage is finalised. #Kenya or #Somali? Godane ponders."
"Godane" refers to Al-Shabaab leader Ahmed AbdiGodane, also known as Mukhtar Abu Zubair,
Criticisms have been mounting against NSIS's capacity to collect valuable information that would prevent possible terror attacks with Members of Parliament calling for reforms in the intelligence agency to boost its capacity to protect Kenyans.
The lawmakers expressed outrage at the security lapse that allowed the terrorists, among them foreigners, into the country smuggling in arms and holding the military in a standoff for four days.