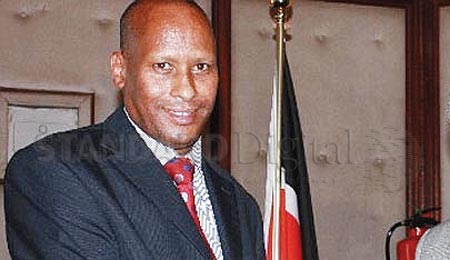 Former PS Lawrence Lenayapa appointed State House Comptroller.
By STEVE MKAWALE
Former Environment and Mineral Resources PS Lawrence Lenayapa is the new State House Comptroller after he was picked by President Uhuru Kenyatta.
The career civil servant hails from Kargi in Laisamis and has worked as a District Commissioner in Baringo and Kiambu.
During former President Mwai Kibaki's ten-year tenure, State House Comptroller was perhaps Kenya's most high-risk public appointment.
Four people served in the office under Kibaki, and as he retired two weeks ago, the position was somehow non-existent after Prof Nick Wanjohi was appointed the President's Private Secretary to handle the Head of State's diary.
Read More
Prof Wanjohi's office was relocated to Harambee House where the President's office is located.
When Kibaki assumed power in 2003, he appointed Mr Matere Keriri, a long-time ally to the post.
Keriri was kicked out in 2004. Mr Hyslop Ipu who succeeded him was also sacked in a huff in December 2008 before Prof Wanjohi took over.
Public spat
Keriri was removed from the office shortly after what appeared a public spat with First Lady Lucy Kibaki at the Jomo Kenyatta International Airport on June 6, 2004.
He left office and was appointed chairman of the Energy Regulatory Commission.
Mr Ipu served briefly before apparently falling out of favour with Mrs Kibaki.
He was moved to the Ministry of Roads in April 2009 as secretary-in-charge of administration.
Dr Nelson Githinji, formerly the head of policy, corporate and government relations at Coca Cola East and Central Africa also served as the Comptroller of State House.
Dr Githinji's bodyguards and official car were immediately withdrawn in a dramatic incident that left State House staff dumbfounded.
During former President Moi's era, the position of Comptroller of State House was revered.
It was one of the most powerful public appointments, as none would access State House without the knowledge of the holder.
Mr Franklin Bett was once the State House Comptroller in the Moi administration, but was hurled out of office because of his firm and principled leadership style.
Failure to bend the rules rubbed Moi sycophants the wrong way.
Mr Bett was promoted to the position of State House Comptroller upon retirement of Abraham Kiptanui whom he was deputising.
He discharged the duties for two years when in 1998; he was a casualty of political intrigues once again.
The late Wilson Chepkwony who was killed in a road crash replaced Bett. Chepkwony died at the wheel of his red Hyundai saloon car after it collided with another one at a notorious blackspot on the Nakuru-Eldoret highway.
Moi appointed Mr John Lokorio who served in the position until his retirement in 2002.