Kenya falls prey to Briton selling fake bomb detectors
KENYA
By - | April 25th 2013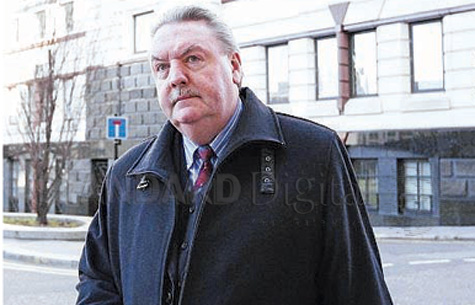 Mr James McCormick is accused of selling at least ten fake bomb detection devices to the Kenya police. [Photo: Courtesy]
By Cyrus Ombati and Agencies
Nairobi, Kenya: Kenya security forces could be using fake and useless gadgets thinking they are genuine bomb detectors, a British court has been told.
The bombshell further raised the possibility that even the gadgets the security forces use to sweep sites where bombs are suspected to have been planted or where explosions have taken place, could also fall in the same category.
The revelation raises questions about the security of Kenyans when they submit themselves and their vehicles and hand-luggage to sweeping by use of metal and bomb detectors at hotels, entrances of buildings and even high security installations where this is mandatory.
According to a story carried in Wednesday's The Telegraph, fake bomb detectors based on novelty golf-ball finders worth less than Sh1,664 (£13), were sold to the Kenya police for as much as Sh3.4 million (£27,000) per piece.
Luckily, officially it was said Kenya only bought ten pieces but that was what is known so far, but given the heightened security alert in Kenya following a series of Al-Shabaab bomb detonations, particularly after Kenya Defence Forces entered Somalia, more could have been procured.
Kenya is among countries that were conned of millions of shillings by a British millionaire who sold them the useless bomb detecting devices. The sense of security Kenyans enjoy every time puffed-up security officers appear on the scene of crime brandishing the gadgets could therefore have been deceptive.
Sh100 million deal
Apart from Kenya, the majority of James McCormick's fake detectors were sold to the Iraqi government, the United Nations, Hong Kong Prison Service, the Egyptian army, Thailand's border control and Saudi Arabia.
Kenya police acquired at least ten of those hand-held bomb detection devices in 2008 and some of them are being "used" up to today.
It is not known how many more were shipped into Kenya but sources said they are used by bomb detectors across the country. Authorities ordered a similar number of those gadgets in 2010 before they put on hold a Sh100-million deal ordered for their supply after reports emerged they were fake.
Officers from Special Crimes Prevention Unit (SPCP) usually boast about the gadgets and use them to detect illegal guns and drugs at various checkpoints.
Experts said the detectors lacked "any grounding in science, nor does it work in accordance with the known laws of physics", adding that they were "completely ineffectual as a piece of detection equipment".
"When he came to Kenya, McCormick claimed his devices could detect minuscule traces of explosives, Class A drugs, ivory and human beings at a distance of up to one kilometre at ground level and from a plane flying five kilometres high," said an SPCP officer.
Police officers said while marketing the fake bomb detectors under the Advanced Detection Equipment brand (ADE651), the Briton promised that the devices could also pick up substances up to 30 metres underwater or 10 metres underground, and through walls.
Inspector General of Police David Kimaiyo said Wednesday he is aware the Force acquired the machines but could not disclose at what cost. "When the sellers came they demonstrated to the officers and we thought they were genuine," he admitted.
The Head of Public Service, who was also the Permanent Secretary for Internal Security, said he would not comment on the issue for now.
The devices came with an antenna that was not connected to anything, and the user inserted coloured cards with encoded information of the substance to be detected.
The Telegraph said the 'morally bankrupt' businessman was on Tuesday convicted of three counts of fraud at the Old Bailey and that senior British and Iraqi security officials believe that his scam allowed suicide bombers to kill and maim thousands.
Reports said soldiers and peacekeepers in places like Iraq, used the ineffectual detectors, thus putting lives at risk. McCormick is thought to have made an estimated Sh6.4 billion (£50) million from sales of his three models to Iraq, Belgium and the UN for use in Lebanon.
Civilians
According to The Telegraph detective Inspector Ed Heath, who led Avon and Somerset Police's three-year 'Operation Venus' into the conman, said: "It is clear that both civilians and Armed Forces personnel were put at significant risk in relying upon this equipment."
Liverpool-born McCormick told the court he sold his detectors to police in Kenya, the prison service in Hong Kong, the army in Egypt and border control in Thailand.
The United Nations paid Sh5.8 million (£46,000) for five devices to be used in Lebanon to detect explosives in cars, and McCormick tried to get an order for another 80 but UN officials then tested the devices and found they were 'not fit for purpose'.
Belgian police handed over Sh1.6 million (£12,800) for similar machine to detect drugs only to find it did not work. When concerns were raised, McCormick told officers they needed further training.
The Iraqi police also bought the machines, as well as officials in Niger and Georgia, who asked for a special card to detect Georgian currency.
The ADE651 device made by the British company, ATSC, is still being used at checkpoints by special units of the police to detect guns, drugs and explosives.
Halted export
Britain's Department for Business Innovation and Skills halted the export of the ADE651 after a BBC investigation challenged its effectiveness.
The broadcaster took the key aspects of the device to a laboratory, which concluded a component intended to detect explosives contained technology used to prevent thefts in stores. The findings on the ADE651 back up the US military position, which had for months raised concerns about the device.
Kenya's police headquarters imported similar devices in 2009 and officers have been using them at various checkpoints in detecting guns and bombs. This was after officials from the manufacturer arrived in Nairobi to demonstrate how they work.
Some officers who have handled the devices said there were occasions they failed to detect explosives or drugs despite them adhering to instructions on how to use the devices.
"We have not been keen on their effectiveness but I can tell you the gadgets worked at times but also failed to detect a given issue depending on the card it was fed with," said a senior officer who requested not to be named.
The ADE651 consists of a swiveling antenna mounted via a hinge to a plastic handgrip. It requires no battery or other power source. To use the device, the operator must walk for a few moments to "charge" it before holding it at right angles to the body.
After a substance-specific "programmed substance detection card" is inserted, the device is supposed to swivel in the user's hand to point its antenna in the direction of the target substance. The cards, it was claimed, are designed to "tune into" the frequency of a particular explosive or other substance named on the card. The device is said to work on the principle of "electrostatic magnetic ion attraction".
Clash of titans: Real Madrid v Manchester United
Real Madrid versus Manchester United; Jose Mourinho versus Sir Alex Ferguson; Cristiano Ronaldo versus Wayne Rooney: it is a Champions League encounter that has captured the imagination in every corner of the planet.