It's rude to play politics in funerals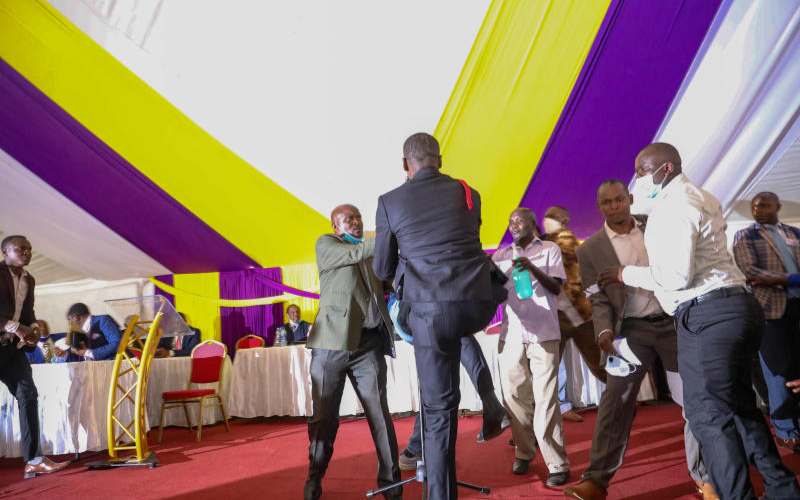 Engaging in incendiary politics at funerals has become as Kenyan as a president admitting that his administration loses Sh2 billion a day in grand corruption without consequences. The latest installment of this unfortunately facet of our political culture was the fracas at a funeral in Kisii, in which two legislators fought on stage.
And to illustrate how central this habit is to our politics, Deputy President William Ruto and former Prime Minister Raila Odinga were in attendance.
Predictably, there was little reflection on the complete lack of respect for the grieving family that was on display in Kisii. Politicking at funerals, and doing so in the most disrespectful way imaginable, has become the norm across the country. This is how far we have fallen. Is it that difficult to suspend politics for the few hours that one attends a funeral to console a grieving family? Do we not have the freedom to hold rallies before or after funerals?
I ask these questions because the history of politicking at funerals is intricately linked to the struggle for political space. During the KANU single party dictatorship, it was difficult for anyone suspected of being anti-regime to engage in open politics. Therefore, socio-cultural events like funerals provided cover for politicking. The government could not ban the public from attending funerals or deny senior politicians from doing the same.
This particular kind of politicisation of funerals was for a good cause, and often came with the express consent of the grieving family that invited proscribed politicians. Notably, the politicking at these events was subtle, and meant for clandestine mobilisation against a dictatorial regime. It was not the exercises in crass self-debasement that we have come to expect from our politicians.
Given the many political freedoms that we currently enjoy, there is no need to use funerals as sites of political mobilisation. And the fact that politicians continue to do so is emblematic of their failures as leaders. Is there no aspect of our lives that is too sacred to be sacrificed to short-term political ambition?
They have crippled the public sector with corruption. They have destroyed many private businesses. They have thoroughly corrupted our religious institutions. And to top it all are actively undermining important socio-cultural institutions, including our sacred rituals to celebrate the departed.
In a well-ordered society, Parliament should have already sanctioned the two legislators that fought each other on stage. The two men put our most important political institution to shame and should be made to pay for it.
More broadly, there should have already been calls for a moratorium on politicking at funerals, or in places of worship. However, because of our learned helplessness when faced with glaring violations of norms and basic decency, we have simply accepted this jarring episode and chosen to move on. Until the next incident happens.
In addition to shining the spotlight on the two legislators, it is equally important to ask more of Ruto and Odinga. Their mere joint presence at the funeral was bound to ignite passions. In fact, there were credible news reports that rival groups had planned to confront each other at the event.
Yet they do not appear to have done anything to stop the confrontation from happening. This dereliction of duty is unconscionable. Leaders who openly disrespect mourners at a funeral send the message that they do not care about norms, lack self-respect, and that, in their view, there is nothing too sacred to be defiled by incendiary politics. Is this the message that Odinga and Ruto want the public to take from the behaviour of their respective lieutenants in Kisii?
-The writer is a professor at Georgetown University