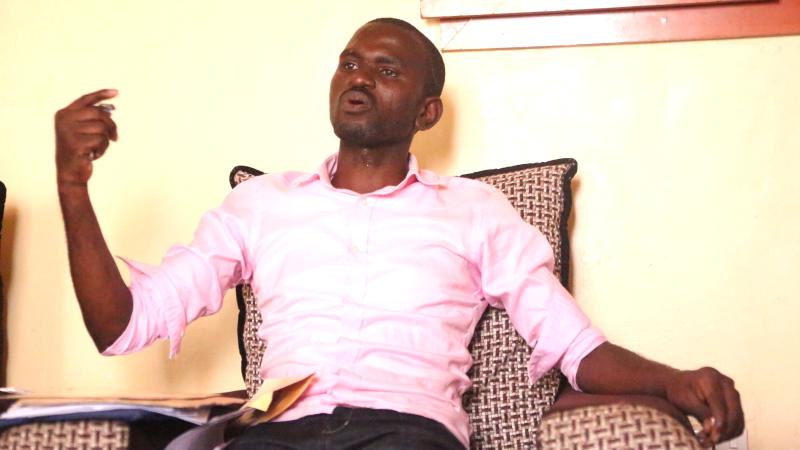 When Philip Otieno (pictured), a radiographer resigned from private practice to join Kisumu county government, he had many expectations.
He had worked at a private hospital for three years before landing on a seemingly lucrative job at Chulaimbo Hospital as the only radiographer in Kisumu West sub-county in 2019.
He says he was handed a three-year contract with a basic salary of Sh24, 580. Mr Otieno's deployment to his new working station took over four months but in April this year, he finally reported to work.
Six months down the line, Otieno has never received a salary. What seemed like a promise for a better life as a medic and his only hope of climbing the career the ladder, has now turned into a nightmare.
Otieno claims despite reporting to work diligently whenever he was on duty, he lives in fear of finding his house locked as he hasn't paid house rent for several months. He cannot even afford medical care for his eight-month pregnant wife.
Dismissal letter
What has complicated matters is that he was barred from accessing his working station a week ago.
In a dismissal letter seen by Sunday Standard, the hospital administrator wrote to the county secretary stating that Otieno had been released to clear with the Public Service Board.
His letter was in response to the county secretary's instructions asking the hospital in charge to relieve Otieno from duty for failing to return his contract and pick a new one under the Universal Health Coverage (UHC) programme.
His story mirrors that of several health workers contracted by the county government, only to be shown the door a few months later.
They are among health workers who filled the void in Kisumu's health sector when medics downed their tools to protest salary delays.
Habakkuk Omondi, a Laboratory Technologist at Gita sub-County hospital has suffered a similar fate.
In May, Omondi was diagnosed with Peptic Ulcers but couldn't get any medical help since he didn't have cash to do so. He cannot also afford any medical help for his ailing mother.
When the Sunday Standard team visited his house in Kajulu village, it painted a grim picture of pain, struggle and suffering.
Omondi's condition has also worsened and had to be put on a drip. His friend, David Anduro, a clinical officer who helps in administering the drip says the ulcers is at an advanced stage. Initially, when his condition started to worsen he went to Jaramogi Oginga Odinga Teaching and Referral Hospital where he was put on medication.
The facility ran short of drugs forcing Omondi to beg friends to raise money to buy medicine. "The medications are expensive, he needs Sh30,000 per dose, but since he cannot afford we just chip in and treat him from his house," Anduro says.
Anduro adds that the acidity is so high that any food he eats comes out as soon as it lands in his stomach.
A clinician who sought anonymity says she is forced to trek three kilometres daily to work in flood-prone areas.
"I am depressed and I have to give my best at work, stay long hours without food, I cannot even feed my own family," she notes.
This is the experience 177 health care workers recruited on a three-year contract last year to fill the gap caused by striking health care workers, have been subjected to.
Reports at the Department of Health and Sanitation indicate that healthcare workers across all cadres signed contracts in October last year but four months later they were ordered to return them to sign fresh ones under UHC.
Only ten people did not return the contacts as instructed by the public service board.
County Health Executive Baoz Nyunya says the contracts were changed four months later to embrace changes brought about by UHC.
"When we got the offer letters we choose to prioritise them since we had earmarked them for absorption," Nyunya notes.
Deployment
He says they were deployed in April to their workstations and that salaries were supposed to be paid by the National Government under the new terms and confirmed that they had not been paid a single coin.
However, he attributes the stalemate to long procedures and engagement between the Public Service Board and the Ministry of Health.
"Currently the board is putting all records together and this has really taken a lot of time since other information could not be obtained in a short time," Nyunya adds. Those who returned their contracts in good time, he says, should expect their money by the end of this month.
Notably, the COVID-19 allowance for front-line healthcare workers is still a national government responsibility and it was pegged on those who are permanent and pensionable employees.
But the healthcare workers representative, Kevin Gumba, says the county government has been taking them in circles over the matter.
"We were issued with the new contracts under threats and promised that money would follow," Gumba claims