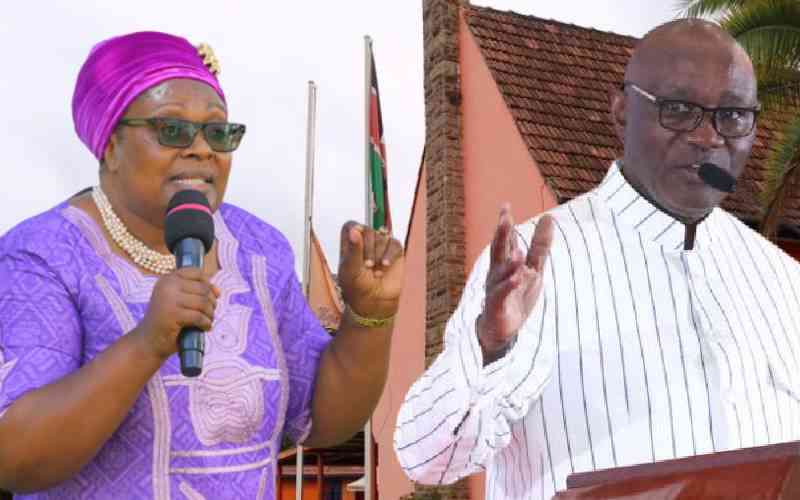 Former Kisii Governor James Ongwae and former Woman Rep Janet Ongera have resigned from ODM after nearly two decades in the party.
In a joint signed statement, the leaders said they had resigned from the party with immediate effect.
"It has been an honour serving in ODM, we regret nothing, but we move to the next phase with a clear mind on how better as a country we can manage our political affairs before and after elections," the statement read.
"We have arrived at this decision having carefully taken stock of the activities preceding the last elections and more so the ill manner in which the party treated us and our supporters through political patronage by individuals who never had the interests of our community at heart," they said.
The two said Kenya is at a stage where individuals and leaders should join progressive minded leaders and parties that focus on unity and collective decision making.
"As the Holy Bible says in Ecclesiastes 3:1; there is a time and season for everything and for us it's time to exit. We will soon issue a statement to our next political journey as way forward."
The two have been leading ODM party activities in their region for more than 15 years. After serving as governor for two terms, Ongwae was seen as de-facto leader in Gusii region. Ongera rose through the ranks to become one of the leading women leaders from the region.
According to Ongwae, politics is about interests; "Our community must always remain united if indeed we need to achieve our desire goals. A new government has been formed and it is prudent that we find a proper direction to the benefit of our people. I am ready to offer direction to our people."
On the recent government appointments, Ongwae thanked President William Ruto for appointing Ezekiel Machogu as Education Cabinet Secretary and nominating Essy Okenyuri and Gloria Orwoba to the Senate.
"Government is large, there are always other positions that our sons and daughters can be appointed to and work for the benefit of our people. As a seasoned politician and elder in the Gusii community I could be available and ready to offer directional leadership to our people."
The exit of the two means ODM will have to recruit new top leaders.
In September, Ongwae and Ongera led Gusii Azimio leaders to a meeting with President William Ruto.
The resignations are a big blow to ODM in Gusii region.
Ongwae was Azimio leader Raila Odinga's point man in Gusii while Ongera is the former ODM Executive Director and a key ally of Raila. She lost her seat in the elections to Doris Donya of Wiper.
Leaders who attended the meetin with Ruto is September included Jimmy Angwenyi (Kitutu Chache North-Jubilee), Zepedeo Opore (Bonchari), Ben Momanyi (Borabu-Wiper Kenya), Zadock Ogutu (Bomachoge Borabu-Jubilee) and Stephen Manoti (Bobasi-Jubilee).
A majority of the leaders who attended the meeting had, during the campaigns, complained of intimidation.
Related Topics