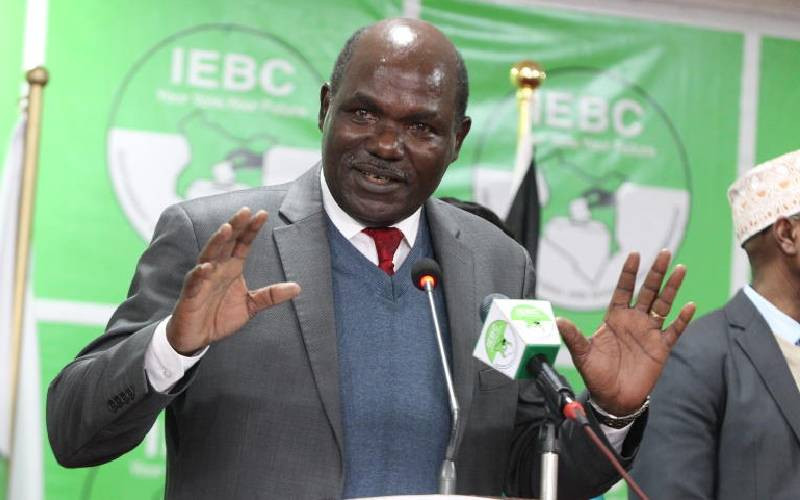 They say it's not over until the fat lady sings and since Wafula Chebukati, the IEBC boss, is neither fat nor a lady, he invited comely ladies to sing. And sing they did, hearty melodies that lilted the gloom on Wednesday.
It was the sort of therapy many poll losers needed - a preacher preceded Chebukati at the podium, helpfully reminding Kenyans that preachers were available for pastoral care and counselling. And since the preacher did not give an Mpesa Pay Bill number, I concluded that the prayers would be offered gratis. I mean, it's important to confirm these things. This is Kenya, after all.
Walking to the podium with a slight slouch, as though he carries the world on his shoulders, Chebukati made his speech, short and crisp.
Polls had closed hours earlier, he said, and which we all knew. As you are aware, Chebukati went on, there were incidents in Mombasa and Kakamega… Kenyans were waiting to know who their next president would be, but since Chebukati has a wry sense of humour, he was talking about everything else but the presidential polls.
First, he profusely thanked the choirs for the wonderful singing — some had travelled all the way from Tanzania and were here to play all night, perhaps to counter the 10-minute show by Bongo sensation, Diamond.
Chebukati's pate shone brightly against the TV camera lights. He put on his glasses and read about a few "incidents" that had prevented governor's elections in the counties of Mombasa and Kakamega. New dates would be announced, he said. Wasn't that to be expected? Surely, tell us something we don't know!
Enjoy the singing, Chebukati flashed that micro flicker of a smile, before hastily revealing that a certain percentage of Form 34As had trickled into the IEBC portal and were available to the media and other stakeholders.
Wednesday evening, Chebukati was back for another briefing. "The commission appreciates Kenyans for continued patience as it continues to collate and tally results," he started. Continued patience for continuing collation of results. This is unique Chebukati-speak.
Still, no word about the presidential polls. "As you are aware, in Eldas constituency and Wajir county…" He went on to highlight incidents those areas, followed by more "incidents" in Garsen, Rongo and Trans Nzoia. If appears if a hyena had strayed into a polling station, the incident would have under Chebukati's brief.
Then came the revelation. Alas! The 34A forms that he had casually alluded to and which were publicly available, contained the presidential results. "These are the results, there are no any other results, these are final results," he said with a glint in his eye.
This was Chebukati's master stroke. Having been made the fall guy five years ago, he decided he wasn't going to lose a goodnight sleep over an election. He would go home at regular hours and eat regular meals, shower and turn on the TV and follow the news, which all focused on when Chebukati would declare the presidential polls. In privacy, I'd imagine Chebukati beaming in the dark: mtangoja tu!
After all, if the law allows him up to seven days, what would be the rush? Haven't Kenyans waited for five years? And how did they reward him five years ago, when he skipped his sleep and rushed through things, besides calling him names and call for his sacking?
"I want to believe the media you are doing your own tallying, although you are a little behind. You should be at 97 per cent like we are, which I believe you should also be eeeer somehow eeeer maybe you were not prepared for this…"
Unknown to journos, Chebukati has been waiting for them to tally some 47,000 documents to work out who will be the next President. It's not clear if Chebukati would compare the journos figures to his. All he said was that he'd wait for physical copies of form 34A to be delivered to his office for authentication.
Chebukati removed his glasses. He flashed his meeky-mouse smile. Enjoy the wonderful singing from the choirs, he said.
Related Topics