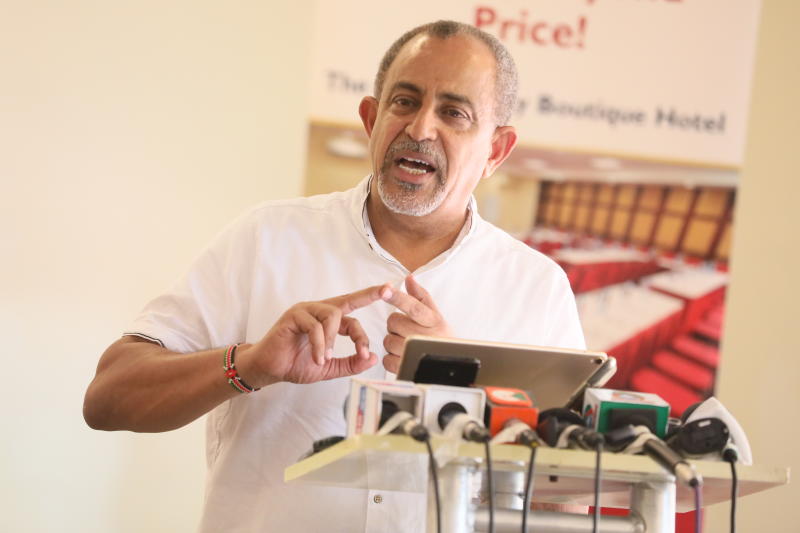 Businessman Suleiman Shahbal has rejected calls to run for Mombasa governor as an independent candidate and declared support for ODM's Abdulswamad Nassir.
Mr Shahbal made the declaration during the Eid Baraza in Mombasa yesterday, amid reports that more than 60,000 voters had signed a petition seeking to have him vie as an independent candidate.
The businessman's supporters, led by Selina Maitha whom he had picked as running mate and former Mombasa Mayor Ahmed Mohdhar, accused him of betrayal, saying he made the decision to drop out of the race without consulting them.
A fortnight ago, Mr Shahbal said he had established a team to move around the six sub-counties of Mombasa to collect the voters' views before he makes a decision whether to vie as an independent candidate.
"It was an individual decision that was made without consulting his supporters. He has not told us why he dropped out and given us direction," said Mr Mohdhar.
But Mr Shahbal defended his decision, saying he dropped out of the race after striking a deal that will see him champion the construction of special economic zones in Mombasa.
"I was not promised a Cabinet position in the Raila Odinga administration. I stepped down after it was agreed that I will be given the opportunity to develop the special economic zones," he said.
Disappointed supporters
The businessman said he could not resist the opportunity to develop economic and industrial zones to create jobs for Mombasa residents.
"For the last 10 years I've been agitating for the development of the special economic zones. At one point I told the government to allow me bring in investors. Now I've a chance to actualise this dream," he said.
He acknowledged that his supporters were disappointed when he dropped off the governor race in favour of Mr Nassir.
"I have all this time stood for change. I believe that I could have complemented what Governor Joho has done during his two-term reign," said Mr Shahbal, who urged his supporters to rally behind Mr Nassir.
He revealed that Governor Hassan Joho and his elder brother Abu Joho were instrumental in brokering the deal that ended a two-week impasse on the nomination of the ODM candidate for Mombasa governor.
Mr Shahbal said he will continue to strongly advocate for equitable resource mobilisation and more revenue streams for Mombasa County to end over-reliance on funds from the exchequer.
Unifying leader
He said the Port of Mombasa should benefit locals just the same way residents of Turkana will reap from oil revenue and the people of Narok benefit from Masai Mara National Park.
Mr Shahbal hopes that voters will elect a unifying leader who is capable of taking Mombasa to the next level.
"If you supported Suleiman Shahbal, please support Abdulswamad Shariff Nassir. I am even reaching out to former Mayor Ahmed Mohdhar to support Nassir," said the businessman who declared that he is ready to work with Mr Nassir.
Governor Joho urged residents to uphold peace and remain united ahead of the August 9 General Election.
"Our diversity is our strength in Mombasa where we have lived together as one," he said.
The governor called on Mombasa voters to elect Mr Nassir to succeed him.
"Nassir is the person to unify the people of Mombasa. I won't interfere with his reign," said Mr Joho.
Mr Nassir said he was humbled by the support of the people from all walks of life and pledged to ensure inclusivity for a better Mombasa.
"I was born in political family with strict discipline. I will ensure everyone has a say in governance and once I form the next Mombasa government it will be all inclusive," he said.
ODM candidate for the Kilifi governor seat, Gideon Mung'aro, said it is common knowledge that Coast people are humble and accommodate all.
Related Topics