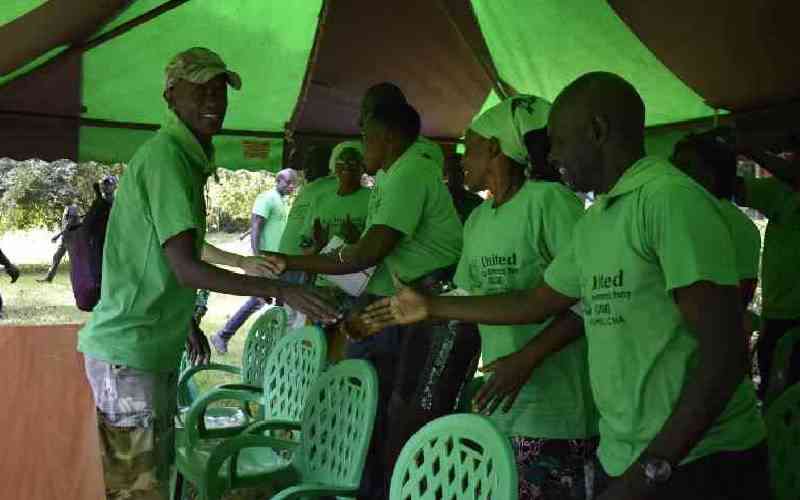 Political parties are scrambling to wrestle Nyanza's grassroots support from ODM's strong grip and have embarked on an intense membership drive.
In nearly all the six Nyanza counties, several parties have pitched tents on intense membership drives to bolster their numbers and strengthen their presence in a region where ODM enjoys nearly unrivalled support.
The region has been a beehive of activities in the last three weeks as parties keen to counter ODM's influence including fringe parties' scramble for a slice of the region's support.
Led by President William Ruto's United Democratic Alliance (UDA) party, the parties have deployed agents across the region to register new members.
The ruling party is seeking to take advantage of a lull in ODM's activities in the region to recruit more members and strengthen itself in the region.
Yesterday, UDA and government officials pitched the tent in Kasipul Constituency in Homa Bay for another spirited membership hunting mission. The party's grassroots officials have also been conducting continuous membership drives in Kisumu and Siaya.
Using some of the appointments made by President William Ruto which factored in some leaders from Nyanza as bait, UDA officials in the region are on a mission to convince residents to embrace the yellow colour.
Odoyo Owidi who was recently appointed by Ruto to head the Lake Victoria South Water Works as its chairperson led the drive in Kasipul and urged the region to embrace change.
He claimed the region has been under ODM's domination for a long time and should now free itself.
"In politics, there is no slavery. We should embrace political polygamy in the region," said Owidi. In the region, former governors Okoth Obado (Migori), Evans Kidero (Nairobi), and a host of government appointees including ICT CS Eliud Owalo are leading the membership drives.
Former Migori Governor Okoth Obado says they are keen to strengthen the party.
Obado has urged a section of ODM leaders who have vowed to work with Ruto to join the UDA party to help strengthen it in the region. About three weeks ago, Obado urged the MPs to join UDA.
"I want those who seat on the fence to come. I want them to come join the party," Mr. Obado said.
The county coordinator for the UDA party Fredrick Siengo said that their main agenda is to boost UDA party membership through mass recruitment.
"We want to open up UDA party offices across all the eight sub-counties in Migori as you have seen our Party's Secretary General has been doing in different counties to make the party strong," said Mr Siengo.
Migori UDA party officials have already identified four offices in Rongo, Awendo, Kuria West, and Nyatike sub-counties.
But it is not only UDA scrambling for Nyanza's political soul, The United Green Movement (UGM)and The Movement for Democracy and Growth (MDG) are also making in-roads in the region in moves aimed at expanding their membership.
Last week, UGM launched its own membership drive in the region and has rolled out the exercise in Homa Bay. MDG has also launched a similar exercise in Siaya.
It remains to be seen if their efforts will cause ripples in ODM's political pond even as the Orange party continues to focus its attention on the activities of the larger Azimio One Kenya coalition.UGM Co-party Leader Agustino Neto said they are going to undertake the grassroots elections in the region for its party members as part of their efforts to put structures in place to strengthen it.
Neto said they are undertaking exercises to strengthen UGM in the Nyanza region.
"UGM exists in 37 counties in Kenya but we have started the grass root elections in Nyanza to have a stronghold here," Neto said.
Neto said their objective is to provide Nyanza residents with an alternative avenue through which they can elect various leaders.
He urged Nyanza residents to accept multi-party democracy whose proponents trace their roots in the region.
"Multi-party democracy started in Nyanza and that is why we are here to promote UGM. We are giving the people of Nyanza an alternative vehicle through which they can ascent to various elective seats," Neto said.
He added that the party is going to field candidates from gubernatorial to MCA positions in 2027.
"We may either field a presidential candidate or support a presidential candidate in 2027 but UGM will field candidates for all the remaining elective positions," Neto added.
ODM members, however, claim they are unfazed by the developments and maintained that their party enjoys a lot of support.
A senior ODM official told The Standard that the party is undertaking continuous membership drives and is less interested in supremacy politics.
"Those who think they can wrestle Nyanza away from Raila are dreaming," said the official.
(Anne Atieno, James Omoro, and Harold Odhiambo)
Related Topics