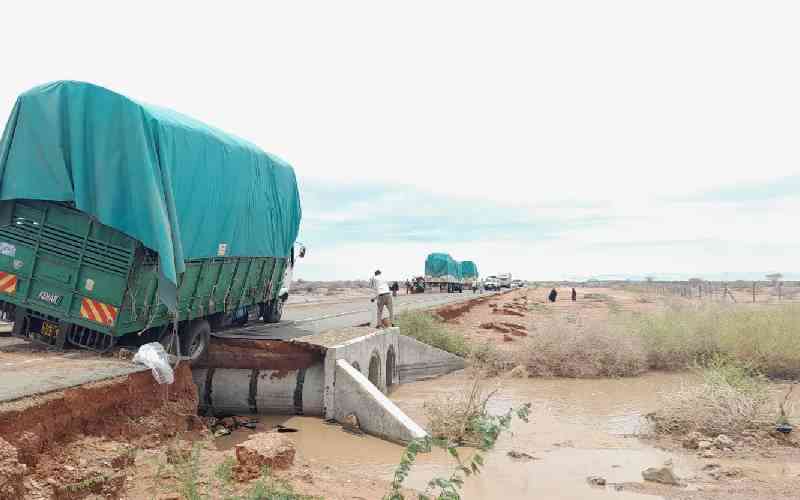 The Kenya Power and Lighting Company in Mandera has announced a plan to ration power as heavy rains continue to render road impassible.
County business manager Ali Ibrahim Golicha said the temporary rationing among the consumers will serve them for the next few days as before the fuel tanks that have been stuck on the road arrive.
He said over 19, 000 consumers in Mandera East remain in darkness following the power outage caused by lack of fuel.
Golicha said 7 fuel tankers are trapped along Mandera-Wajir muddy road after a heavy downpour in the area rendering the roads impassable.
"Seven fuel tankers are stuck at Kotulo town for ten days now because the roads are cut off by floods and if not solved in the next four days, our clients will spend in darkness until the roads will be passable," Said Golicha on the phone
The county boss said with the station consuming 16000 litres per day, the manager said it could only serve for several days.
"We regrettably announce that there will be daily power rationing in mandera power station due to lack of fuel, vehicles transporting fuel are stuck in kutulo town because the roads are impassable" Said the county business manager.
Golicha said although they have some fuel stock at the station, they can only serve customers for six hours a day, from 6pm-11pm.
"The only solution to the recurring power outage during this rainy season will be the opening up of the roads so that the tankers can travel and feed us with the fuel," he said.
He said the other five subcounties among them Takaba and Elwak will not be interrupted because the consumption rate is low as a small number of people are connected to the power.
The Standard has learnt that hundreds of other heavy vehicles transporters are held up at Lagsure water passage that originates from within Ethiopia ending in Somalia through Kotulo's Mandera County.
Flash floods have always cut off roads and highways, swept away farms in North Eastern during every season.
The B9 tarmac road linking Wajir and Garissa has been damaged and cut off by floods rendering the buses playing that route to stop their operations.
River Daua in Mandera town (that borders Ethiopia) is overflowing and putting at risk the lives and properties of all the residents along the riverine.
Related Topics