Marvin Oduor did not find it easy to attain a grade B plain in his Kenya Certificate of Secondary Education (KCSE) examinations while he spent most of his time during holidays eking out a living in the streets of Nairobi.
The lad, who sat his exams at Agoro Sare High School in Homa Bay County, has known the streets of the capital city as his home since 2020 when he was in Form One. He says he's a street boy who survives on begging and sometimes directing motorists where to park their vehicles.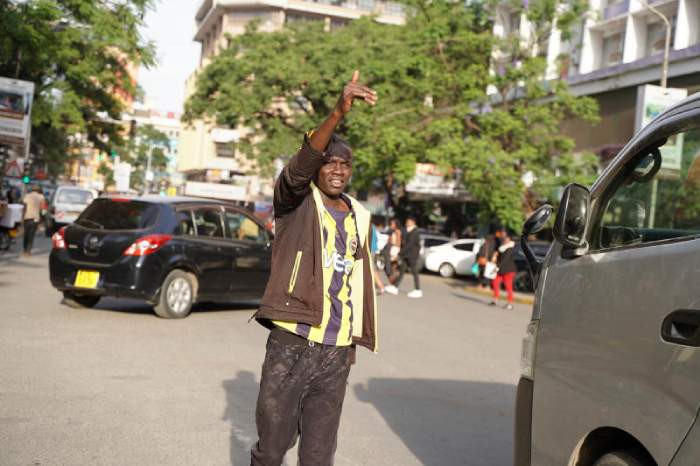 Even during our interview, he was in the streets with other street boys. This is where he has been celebrating his good performance with his colleagues.
"Life in the streets is so hard. We receive beatings every time from City Council askaris and the police," Oduor laments, saying the County Government of Nairobi does not want to see anyone loitering in the streets, but that he has no option, having lived there since the outbreak of Covid-19 in March 2020.
All schools were closed after the pandemic was reported in the country and Oduor says he could not live with his family in the slums of Mathare.
"There was a misunderstanding between me and my family when I decided to come to the streets," he says.
Before, he had lived well with his mother and his only sister and he comfortably went through primary school at Mission of Hope International and passed his KCPE, getting 386 marks. This is how he joined Agoro Sare High School.
During school holidays, the young man, who will turn 18 in June, says he would sometimes dash to his mother's house to do his school assignments before returning to the streets. He would also do his studies at night in open areas of the streets at night.
Difficult life
How did Oduor manage to pass his KCSE in the face of this difficult life in the streets?
"I made it through hard work and tireless reading," he says. Whether in the streets or in school, he understood hard work as the only secret to passing exams.
While in school, Oduor says, he kept on consulting teachers to explain to him areas he did not clearly understand. He had hoped to join university to study human medicine but his hopes have been shattered by the grade B plain.
To join medical school in a public university in Kenya, a candidate needs to have a grade A plain.
Oduor says he did not manage a good grade in Chemistry as he had expected. He had a C-minus while in both Biology and Mathematics, he got B-plus and B-minus, respectively. Without a C-plus in Chemistry, he can hardly qualify to do a degree in medicine even at a private university.
However, the young man is determined to join a public university where he hopes to secure a bursary or get a sponsor to assist him continue with his education.
But if he doesn't get money to finance his university education, he has no problem continuing with life in the streets, which he describes as a life full of challenges. If he doesn't earn money in a day, Oduor says he cannot eat.
"On a normal day, I earn at least Sh50," he says, adding he can earn as much as Sh350.
He says that last year, things were better but as time went by, it is increasingly becoming hard to cope with the high cost of living.
Oduor is not the kind of a child who loses hope in life. He has weathered many storms in the streets of Nairobi and he is much prepared to go on and improve his daily earnings if money for university fees does not come.
Related Topics