The mother of a 13year old girl who died after a fight with a fellow student, is seeking assistance to attend her daughter's burial.
According to family reports, Janice Mueni had travelled to Saudi Arabia to seek greener pastures after losing her job and separating from her husband. After receiving news of her daughter's demise, Janice is said to have contacted her agency so as to secure her legal documents to enable her to travel and bury her only daughter, attempts that have proved futile.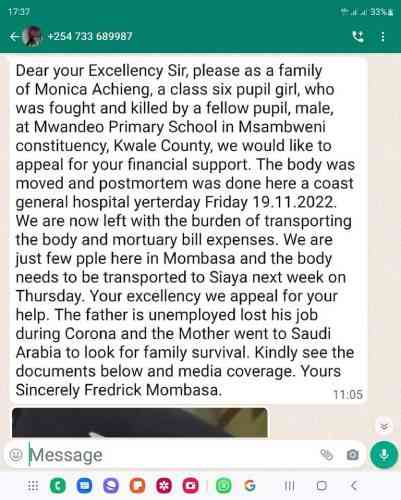 It is alleged that her agent is uncooperative and her efforts to convince him are met with resistance. "As a matter of fact, she doesn't know her exact location as the agent frequently sells her to different employers."
The family reached out to former Nairobi Governor Mike Sonko who has promised to take up the case and ensure that Janice secures her freedom.
"I have committed to offsetting the funeral costs but before she is laid to rest, I have reached out to the Ministry of Foreign affairs through CS Alfred Mutua and the Saudi Arabian embassy. We are working on ways to ensure the mother is in attendance. I'm in touch with her which makes it possible to trace her location in Saudi," he said.
According to the reports, Monica Achieng, a class six student at Mwandero primary school in Lungalunga, Msambweni, Kwale county, met her demise after a fight with a male student. Her body was then moved to Coast General Hospital for postmortem where it lay awaiting transportation to their home in Siaya for the burial.
"I'll pay for her return ticket to attend her daughter's burial because I know the pain of a mother losing her daughter while she is hustling in a foreign country," Sonko said.
Related Topics