Armed with a melodious song, Susan Wambui, then 14, was excited to perform for the Retired President Uhuru Kenyatta in a 2015 pass-out at Lanet Barracks.
Wambui says she had prepared herself for weeks to please the man that was the most powerful in the country who was to grace the occasion. She was prepared well in her school and she was to be the star of the day, "I wanted to shake the President's hands and show him how much I appreciated him," she says.
The primary school girl waited for the president but alas! He didn't show up during the event. The disappointment, she says, was written all over her face. She says she took a sad and lonely walk back to her home in Kiratina, Nakuru County. Her dream was shattered and she hated herself for being excited over nothing.
However, something strange started happening to Wambui, "I started dreaming how the president graced another function and I performed in it. I couldn't sleep well," she says.
She notes that the dream continued when she joined High School and she vowed to do everything to see the then-President Kenyatta.
Determined and confident, Wambui, 21, woke up at 6 am on July 27 this year and started her journey to Nakuru Railways Station, where Uhuru was to re-commission the rehabilitated 217-kilometre Railway.
"I was ready to do anything to get his attention and tell him what was in my heart. I didn't care what I had to do, it was my time to get his attention," she tells the Nairobian.
Wambui says she ensured she sat near the podium and she knew the perfect moment to speak was when the President was giving his speech.
When former Governor Lee Kinyanjui finished his speech, Uhuru stood up and started giving his speech on development projects that he had implemented.
Another woman beat Wambui to her plan and shouted, "Uhuru, we love you".
Uhuru responded: "I love you too. Thank you", drawing applause and laughter in the crowd.
It was now her moment to speak, Wambui stood up and shouted: "I have been dreaming with you and I want your help!"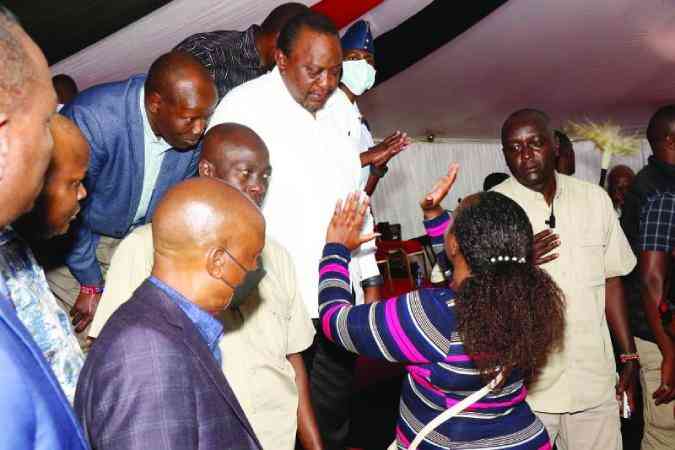 Uhuru had to ask his security guards not to manhandle Wambui, who attempted to catch his attention upon the completion of his speech.
"Ngoja kidogo. Nitakuona, tulia. Wachaneni na yeye. Keti chini mummy, nitakuona. (Kindly wait, I'll hear you. Security guards, please do not manhandle her. Please, sit down madam, I'll accord you attention," he said.
After the speech, she says she was called by Uhuru and asked what she wanted. She says she told him to assist her in her studies, set a business for her and build a house for her parents.
"He told me to stop crying and record my name in a book that was being carried by his guards. I wrote my name and mobile phone number," she says. She added that she was crying because she had been harassed by the guards.
She left railways, having been promised that her concerns would be handled on the following day. In the evening she was called by someone who wanted to confirm her number.
The following day, Wambui said she was called by the former State House Comptroller Kinuthia Mbugua.
"He asked me what I wanted and overwhelmed with emotions and excitement I remember asking for almost everything my family and I needed," she says.
However, after a fruitful conversation, she says that Kinuthia promised that they will start with her education and provide her with capital to start her business. The phone call, she says, ended with a promise that someone at the State House will keep in touch with her.
"They told me to get details of the college I wanted to go, fee structure and a proposal for my business and send to the secretary," she says.
She says that despite sending the required documents she has not gotten any reply and the mobile phone numbers can no longer go through.
"I am yet to join college to date and I wanted to be a caregiver course and help the elderly in the country or outside. They should support me for the course. After that I will take care of myself," she says.
She adds that the statehouse should assist her get a good job either in Kenya or abroad.
The Nairobian reached out to Mr Kinuthia for comments. However, none of our calls or text messages were answered.
Related Topics