Deputy President Rigathi Gachagua took on former President Uhuru Kenyatta at Tuesday's inauguration.
In front of visiting Heads of State and government and other guests at the Moi Sports Centre Kasarani in Nairobi, Mr Gachagua revisited what he termed persecution he and President Ruto allegedly went through at the hands of State operatives.
The Deputy President told guests of the onslaught against Dr Ruto and him by alleged State agencies which he said was due to their political stand. He, however, told Kenyans that such would not happen under their watch.
"It has taken the hand of God that the son of an ordinary Kenyan is being sworn in as the fifth President of Kenya today. I ask Kenyans to pray for him to start the economic transformation needed," said Gachagua.
He said Ruto is inheriting a dilapidated economy with Sh10 trillion public debt, six million Kenyans without jobs and a further 14 million Kenyans listed on the credit reference bureau for failing to pay loans. He said there was a difficult task ahead.
Gachagua said Kenyans should be told the truth that despite President Ruto being a hardworking leader, he needs their patience to grow the economy.
In an apparent attack on Uhuru's scorecard, Gachagua claimed Ruto will pick the country from where late President Mwai Kibaki left it and take it forward to be at par with most developing countries.
The DP said freedom had come at last and citizens will be free to associate with anybody they wanted without looking over their shoulders, observing that it had become a crime to be a friend of Ruto.
Will of the people
"I would like to thank the State agencies involved in the electoral process for refusing to be intimidated and working to ensure the will of the people of Kenya was not subverted," said Gachagua.
He asked Kenyans to take care of their families because they were the only one who would stand with them when they have problems, expressing his gratitude to his wife Dorcas Rigathi and their two sons for standing with him during his difficult moments.
The Deputy President called for support of the government in empowering Kenyans to cater for their basic needs, promising that the new administration will offer them an enabling environment.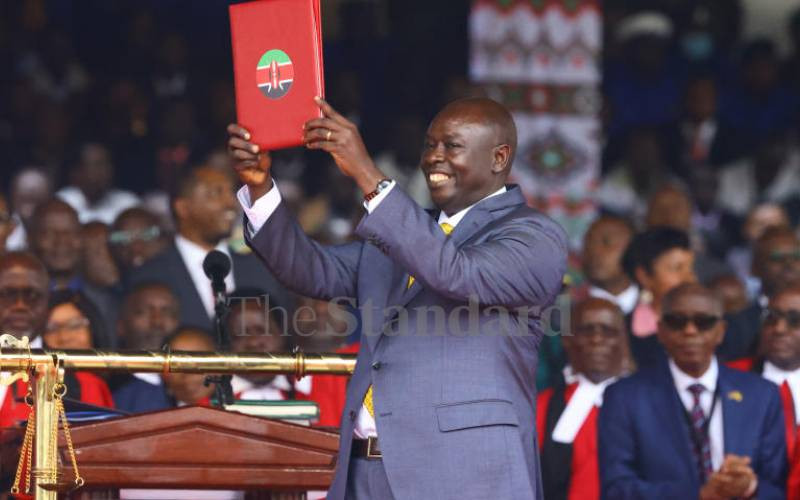 Gachagua told Kenyans they have no choice but to work hard and promised that their administration will not go after Kenyans genuinely working hard to earn a living through unnecessary usage of State agencies to persecute them.
"Our President, you have told us you will not use the criminal justice system to manage politics, but you will manage politics by being persuasive and convincing to Kenyans, unlike what has been done in the past," said Gachagua.
He promised to support the President in achieving his goals and observed that he had a difficult task as his predecessor since he (Ruto) had set very high standards.
He said the shoes he was supposed to fit in were big but promised to do his best to ensure Kenya Kwanza government achieves its dream of making Kenya great again by the time their tenure in office ends.
Gachagua said Ruto had done a good job during the first term under President Kenyatta and was sure he is going to use the same zeal and vigour as he takes over as President.
"I promise you my President William Ruto that I will be loyal and dedicated as we serve the people of Kenya. I am assuring you that the team working with you will not fail you," said Gachagua.
Related Topics