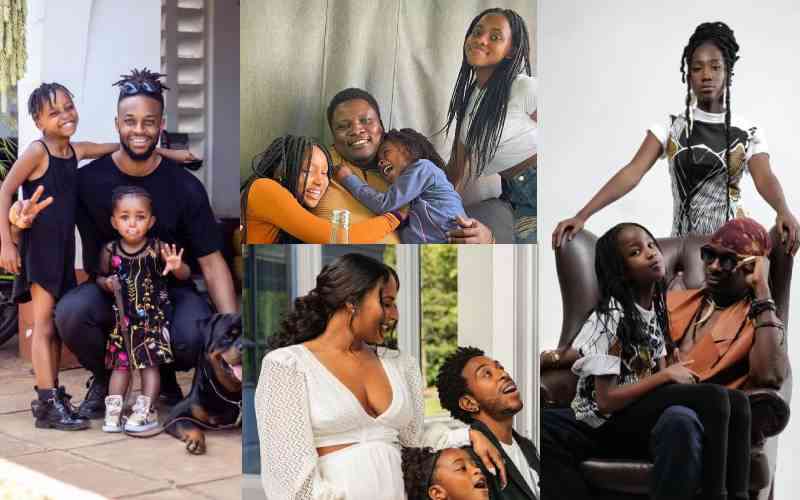 Shiv Simani is in the business of fitness, which means he is always buff and strong, with a tough exterior.
But deep down, the popular fitness trainer and content creator has a soft spot for his two little girls - six-year-old Tshazi and two-year-old Shylo.
His Instagram account is filled with cute moments where he documents raising his little ones, alongside his wife, YouTuber and content creator Miss Tiramisu.
In a recent, heart-warming post, the dad of two poses with the girls and their Rottweiler, Mamba, simply captioning it "baba watoto."
In another, the entire Simani family is adorable in all black, showing off the lovely young family aesthetic on the effortless Mashujaa Day photo shoot.
"I do not think I have ever had any issues being left alone with the children because I have been involved since day one. I was the first person to hold them after they were born," he said in a June interview with the YouTube channel Man Talk.
"So I know - okay, this is how the diapers are done, this is how feeding is done, all their schedules, every illness they have ever had; I know them inside out," he says about being a hands-on dad.
He adds that he knows how to braid hair - a key task that will no doubt aid in his duties.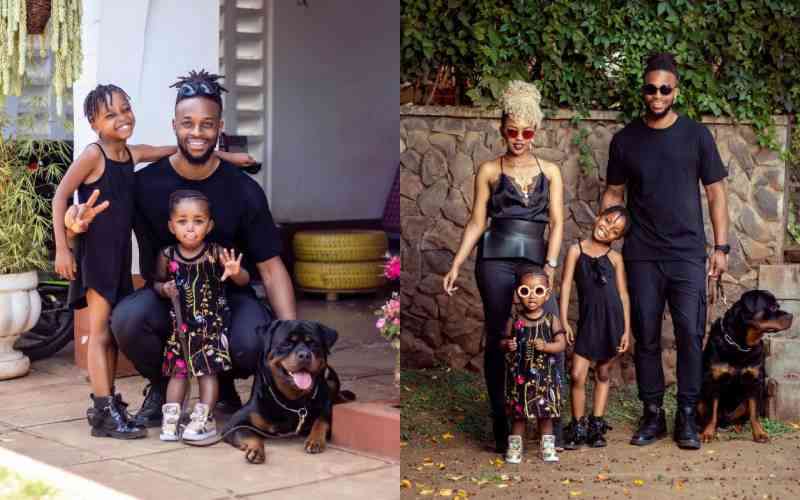 The fitness trainer says that fatherhood, to him, is one of the key parts of his identity.
"Fatherhood is my responsibility, it is up to me to bring up and nurture, protect and take care of my daughters, show them the right way in terms of values and inspire them to do whatever they set their minds to do through them seeing how passionate I am about what I do," he says.
Simani says positively disciplining his daughters as a man requires patience, calm and caution.
"You have to dissect a situation - think about the exact situation and how you need to intervene, and how harshly."
"We try to have conversations most of the time, and if that does not work, for the older child, sometimes we can have a time out," he says.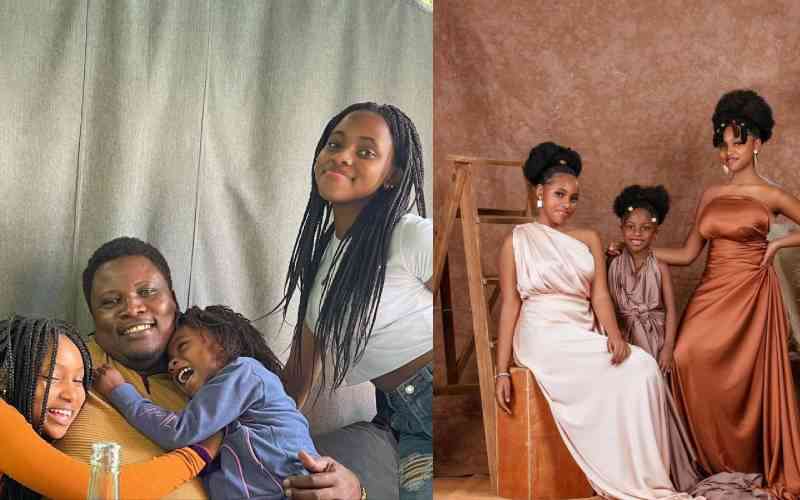 Tom Japanni, who heads the radio section at the Standard Group PLC, says having three girls has softened him up and lets him explore a gentler and more nurturing side.
"Any child is a blessing from God, daughters - an even bigger blessing. Basically because as a father, I think that even traditionally, as something that has been there over time, daughters are very close to their fathers. And mine are no different," Japanni says.
"I love them so much, to the moon and back."
Married to radio personality Massawe, the couple is blessed with three girls - Imani, 14, Soraya, 12, and six-year-old Taji.
Of the crucial life lessons he wants to impact on them as they grow up, Japanni narrows it down to self-reliance, respect for themselves and elders, and a thirst for knowledge.
"I come from a family where the female members were the strongest. My mother and grandmother, are very strong powerful women, and I see that being reflected in my daughters, from the firstborn to the last," he says.
Raising his daughters through the years has been different in many ways, Japanni says, because of their unique personalities.
"We had the firstborn for around two years before we had the secondborn, and she was the apple of our eye. She takes a lot after me, she is more reserved and the intellect of the family, to the extent that we have always looked up to her for a lot of things. She will become a leader, I can see that in her," says Japanni.
He adds: "Soraya, who is named after my mother, is very outgoing. She does everything. She is a champion chess player, swimmer, and dancer; and got certificates for all those things. She has a lot of clout in school and around her friends and classmates."
He says his last born is the life of the family, and describes her as a beautiful soul.
Japanni adds that although he cannot speak about the future and the prospect of possibly having boys one day, he thinks if he had had boys instead, the experience would have been different.
"These girls have brought out the soft side of me," he says.
Fathers of toddler daughters are more attentive to their children than those of sons, according to a study that suggests unconscious gender biases can dictate the way parents treat their children.
In the study, which monitored 48 hours of interactions between fathers and toddlers, striking differences emerged between the way fathers spoke to and played with boys compared to girls.
Fathers of daughters spent about 60 per cent more time attentively responding to their child, compared to those with sons. They also spent about five times as much time singing and whistling with girls and spoke more openly about emotions, including sadness.
Fathers of sons spent about three times as long each day engaged in rough and tumble play and used more "achievement-related" language, including words such as "proud", "win" or "best".
Locally and internationally, we have many well-known girl dads who shine as role model fathers.
Musician Nameless recently welcomed his third girl with singer wife Wahu, another little girl.
The Coming Home singer is also a father to 16-year-old Tumiso and eight-year-old Nyakio.
The celebrated artiste had to call out a netizen who recently urged him to have boys soon "to continue his legacy as an African man".
"Cultural evolution is where my leadership flourishes... Do not just follow beliefs without questioning and looking for better ways of living together as people... let us evolve buana." Nameless responded in an Instagram comment.
He added: "I want my legacy to be a father of three beautiful girls filled with wisdom, humility, and compassion. Who will live a responsible life that creates peace and joy for them and for others around them - that is the vision I am working towards."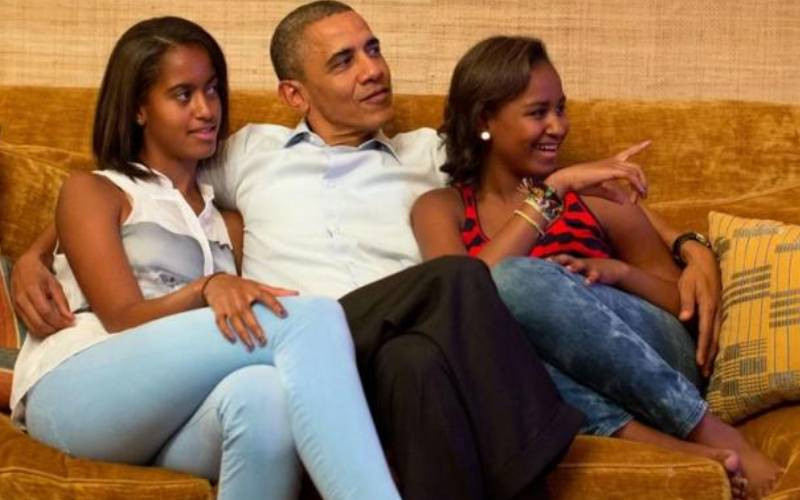 Former US President Barack Obama is also a dad of girls only. He and his wife Michelle have two girls Malia,25, and Sasha 21.
Obama spoke spiritedly about the importance of responsible fatherhood in a speech on the eve of Father's Day weekend in 2009.
"What truly makes a father is the ability to raise a child and invest in that child. We need fathers to be involved in their children's lives not just when it is easy, not just in the afternoons in the park or at the zoo when it is all fun and games, but when it is hard too; when young people are struggling," Obama said.
He added: "When there are no quick fixes or easy answers, that is when young people need compassion and patience and a little bit of tough love."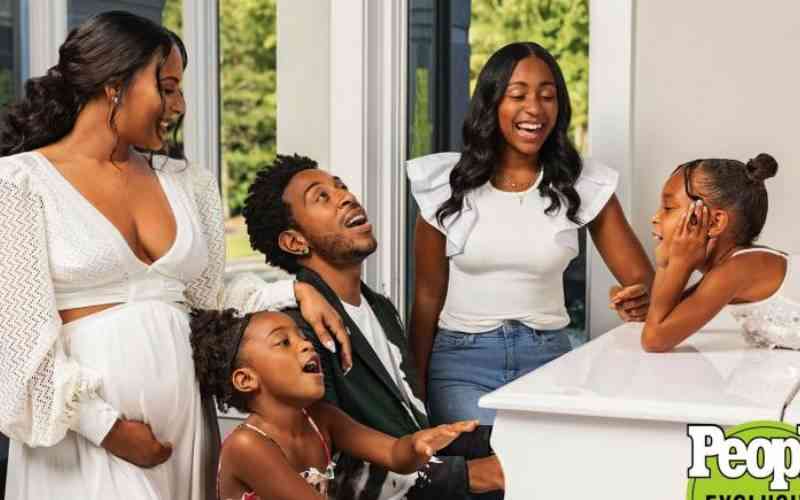 American rap sensation Ludacris is the father to three girls, seven-year-old Cadence, eight-year-old Kai, and 20-year-old Karma.
The 44-year-old rapper opened up about being the ultimate girl dad in a People Magazine interview last year.
"The more girls I had, the more I tried to be a protector. I want to make sure that I prepare them for the world. I am teaching them financial literacy. They are learning piano around here. They are learning ballet. They are learning great manners because as we all know, great manners can get you places money cannot," said Ludacris.
"I just want them to have a variety of assets and a lot of confidence. I also want to make sure that they do not get their hearts broken," he said, adding, "and if they do, that I am the first person they come crying to."
American actor Bruce Willis is also an ultimate girl dad - he has raised five beautiful daughters: Rumer, 33, Tallulah, 28, Scout, 30, Mabel Ray, nine and Evelyn Penn, seven.
"The actor shares his adult children with his former wife Demi, whom he was previously married to between 1987 and 2000, and his two youngest daughters with his current wife, Emma. The two wed in 2009. The blended family has a tight-knit bond, even quarantining together during the start of the ongoing Covid-19 pandemic," Hollywood Life Magazine reports.
The phrase girl dad was popularised after the tragic passing away of NBA star Kobe Bryant in a 2020 helicopter crash.
The late professional basketball player was the father of 19-year-old Natalia, five-year-old Bianca, three-year-old Capri, and Gianna, who unfortunately died by her dad's side at the age of 13.
Fathers on the internet honoured the athlete by using the hashtag #girldad to capture the love between fathers and daughters.
Parents Magazine reports that a strong father-daughter relationship helps a girl develop healthy levels of self-esteem, security, competitiveness, and femininity - even competency in Mathematics and Science.
"But that is not all. A man often serves as a role model for his daughter's opinion of men and future relationships," the report notes.
It adds: "Dads benefit as much from father-daughter relationships as their girls do. Many men admit that having a daughter changed the way they behave for the better."
Related Topics