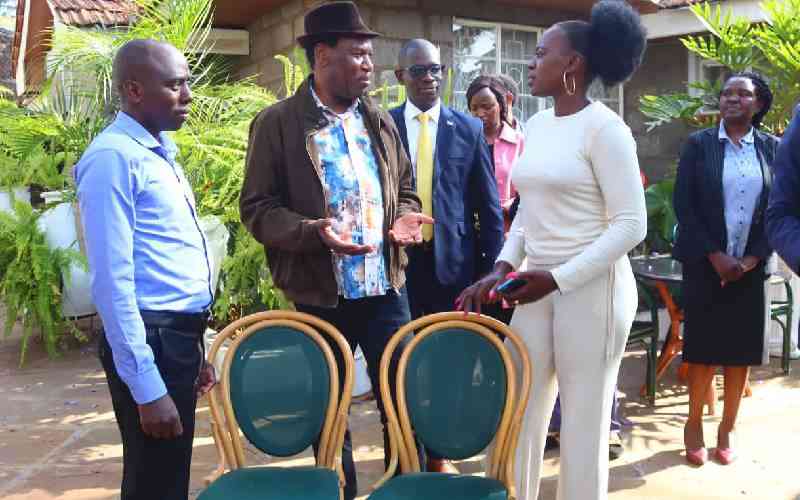 Music Copyright Society of Kenya (MCSK) has appointed Dennis Mogusu as new Operations Manager.
Mogusu is being seconded to MCSK by the government to streamline collection of musical royalties across the country.
Mogusu will be taking over, on a three-year contract, from Peter Enze who resigned.
He holds a Master's degree in Public Relations and Communications, from the University of Nairobi, and Marketing degree from Strathmore University.
He has vast knowledge on matters copyright, licensing operations and marketing from his previous work experience.
He also brings forth rich experience in administrative, operations, enforcement and security work from the Ministry of Interior and National Administration where he worked as an Assistant County Commissioner.
Mogusu also as trade development representative at Safaricom PLC as well as business development executive Kenya National Chamber of Commerce & Industry.
MCSK Chief Executive Officer Dr Ezekiel Mutua, hailed Mogusu on his appointment and welcomed him to the Society saying the society will accord him the necessary support.
''We wish him well as he begins discharging his duties. We appeal to all our local and international stakeholders to accord him the necessary support and goodwill in the execution of his duties,'' said Dr Mutua.
Mogusu thanked the MCSK Board of Directors and CEO for the great opportunity promising to put his best foot forward to raise royalties of members.
''After a rigorous competitive interviews with other potential candidates, I wish to thank you for offering me the opportunity and promising my commitment to deliver and increase royalties collection for our members,'' Mogusu said.
''Mogusu joins the MCSK which has over 15,000 approved and bonafide members with the Board conducting approvals across the country for artists who have applied to join the Society.
The vetting process takes about three months to ascertain the authenticity of the applicant's works and compliance with copyright laws.
Related Topics