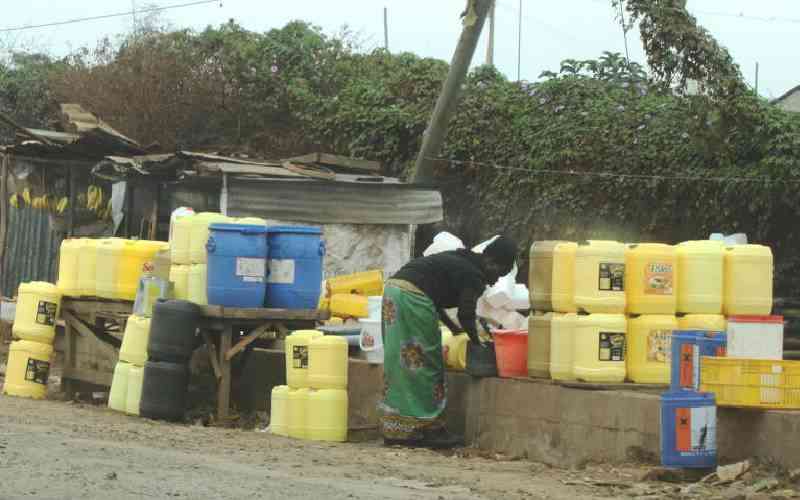 Ms Agnes Makori, a landlady in Kaptembwa in Nakuru County, has had to limit her water supply to tenants following water rationing occasioned by drought.
For a while now, the Nakuru Water Company has been supplying water to residents for two days a week while the rest is channelled to water kiosks.
According to Makori, the water kiosks can reach more people in a day, those with piped water and those without.
"Many women have not been going to work since there are queue at the water kiosks," she said. Many others are unable to carry out their daily activities that require water such as washing clothes. She says others forgo bathing.
Some residents supplement their water supply by fetching the precious commodity in a nearby river which also posies a health risk.
"This means we have more cases of diarrhoea and cholera because this river has been a multi-purpose one for us. It is just now that we have a bad case of climate change that it has dried up so people have to fully rely on the water kiosks."
This year's World Water Day is about accelerating change to solve the water and sanitation crisis, where everyone is needed to take action.
Just like Agnes, many Nakuru residents have constructed underground water storage tanks where they store the rainwater which can be used to supplement the water supply when rationing begins. Although the underground water tanks may not store clean drinking water, she said it can be used for cleaning the toilets, washing clothes or bathing.
"We have been harvesting rainwater by building several pans and dams, as well as distributing water tanks to households so that they can also harvest rainwater so that it doesn't run off to the oceans and just go to waste," said Margaret Kinyanjui, the Nakuru County Chief Officer, Water and Sanitation.
He says: "We had tried large-scale rainwater harvesting but we encountered land challenges, but we are sensitising our residents to have underground tanks to reduce the strain on the available resources."
According to her, the county government has put in place policies to work with residents in supplementing the available water, by ensuring each landowner shows how they will supplement the water supply before constructing their houses.
Dr Nelson Mara, the county Water executive says have developed a Water Act that ensures water is distributed to the entire county and ensuring there are sufficient funds for the development of water projects.
"The biggest water issue is mismanagement but we will ensure these projects are run by water service providers on behalf of the community," he said.
"We have several projects that have stalled either because of breakage or unpaid bills and we will rehabilitate the boreholes before handing them over to the water service providers to supply to residents because we have realised by rehabilitating what we already have, we can supply to more than 2000 households," he said.
He also said they are working with partners such as UNICEF to ensure there is enough water for schools' WASH projects by supplying water tanks to schools.
A different scenario is experienced in Naivasha where the water company NAIVAWASCO has been sufficiently supplying water to its residents without rationing.
According to NAIVAWASCO MD Nahashon Wahome, the supply of water is from the boreholes which are rarely affected by drought. Kenya's water coverage is at 62 per cent. UNICEF and its partners are running a last-mile project in Nakuru, Homa Bay and Nairobi by helping counties improve their water coverage efficiencies.
Related Topics