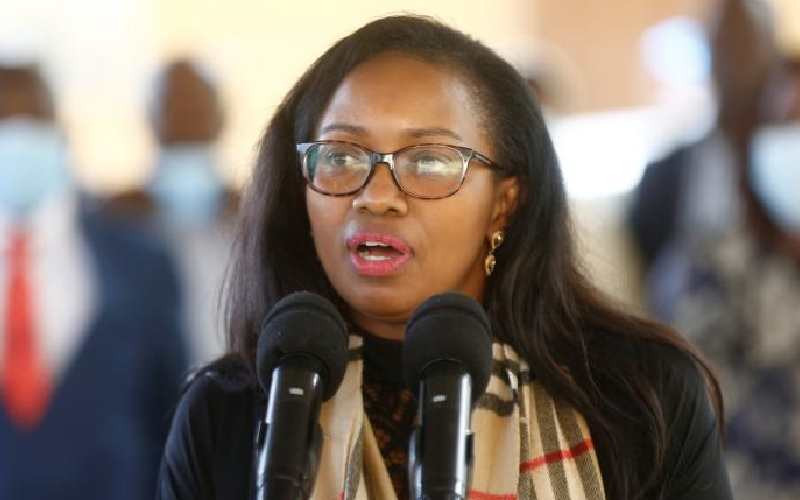 Nakuru Governor Susan Kihika has lost her bid to stop a case challenging her 21 nominees to the county executive.
The Employment and Labour Relations Court said it has jurisdiction to hear the petitions and directed the case be heard on Wednesday.
"This court has powers to hear disputes, petitions and constitution petitions relating to all employment processes, recruitment, nomination and vetting," ruled Justice David Nderitu.
The court yesterday said petitions by Stephen Oduor and Kenneth Odongo on the nominees for chief officers were correctly filed because they challenged a process geared towards creating an employer-employee relationship.
Ms Kihika, county assembly Speaker and clerk, the Attorney General, the Public Service Board and the county government are listed as respondents.
The Governor and the other respondents submitted that the two petitioners had not exhausted all avenues before moving to court.
They claimed that the cases by Oduor and Odongo were wrongfully filed before the court since the two were not employees of the county government.
However, Justice Nderitu said the petitioners had the legal right and capacity to file the case.
"They are both residents of Nakuru and one represents persons with disabilities in the case," the judge said.
The judge noted that the petitioners need not be employees of the county government or the assembly.
According to the judge, it would be unnecessary for the court to send the petitioners to the county assembly or the county government to file their petition.
"It would be improper for the court to allow persons sued to hear and determine a case against them. The respondents were involved in the recruitment," he said.
Despite Oduor not providing evidence that he filed his petition before the assembly, the judge said he cannot dismiss it because the Constitution is supreme.
"The supreme law takes precedence over all other avenues for filing the petition. The court has to adjudicate matters raised if it has jurisdiction," he ruled.
The petitioners claim the Governor did not consider persons with disabilities in her appointment.
They claim the process of interviewing, recommending and nominating chief officers was flawed.
"The county government illegally re-designed some of the chief officers to positions that they did not apply for," reads the petitions.
The judge consolidated the two petitions and granted the respondents until Wednesday evening to file a response.
He also extended the orders stopping the vetting of the chief officers until Wednesday.
The ruling is a setback to Governor Kihika's administration as the chief officers and County Executive Committee Members are yet to take office since she was sworn in on August 25.
Related Topics