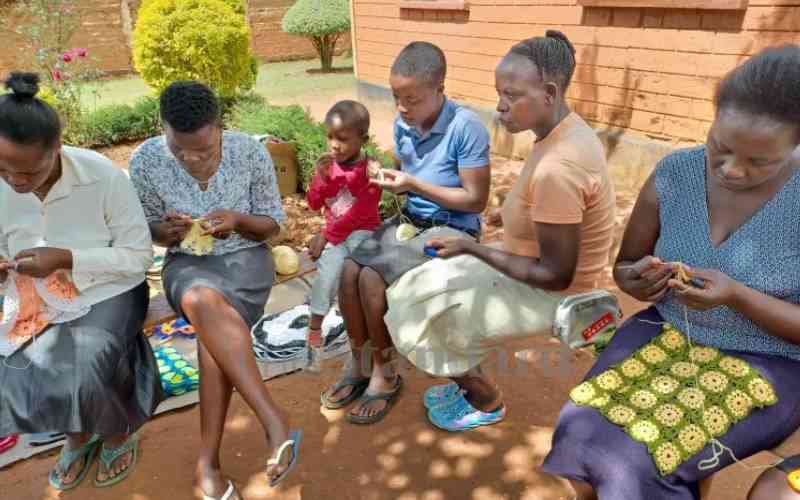 Back when Roselyn Wanyonyi was six years old, she developed an interest in art and crafts and learnt how to knit.
She recalls how in primary school her teachers realised that she was talented as she could easily knit patterns just from observing them, so they helped nurture her talent.
"I easily grasped the art of knitting patterns even those that appeared complicated and my teachers who discovered that I had the talent really supported me and thus I did even better," she says.
She says her teachers linked her up with people who weaved and knitted for commercial gain to help her polish her skills.
Later as a nurse, she would spend her free time knitting and she would trade her wares for cash to complement her salary.
Now a 69-year-old retiree, Ms Wanyonyi has taken her life-long passion in knitting to earn an income while supporting the vulnerable in her community.
She sits every day under the shade of an avocado tree at her Lukhuna home in Kitale, where she teaches a group of eager students how to knit.
The students, mostly widows, single and young mothers find comfort in taking art classes under Ms Wanyonyi's instruction.
Wanyonyi says she has always had a burning desire to positively transform the lives of vulnerable women in the community.
"I challenged myself to empower others since God gave me the talent and I was guided free of charge, hence I felt the need to give back to society and that is what inspired me to start this programme," she disclose.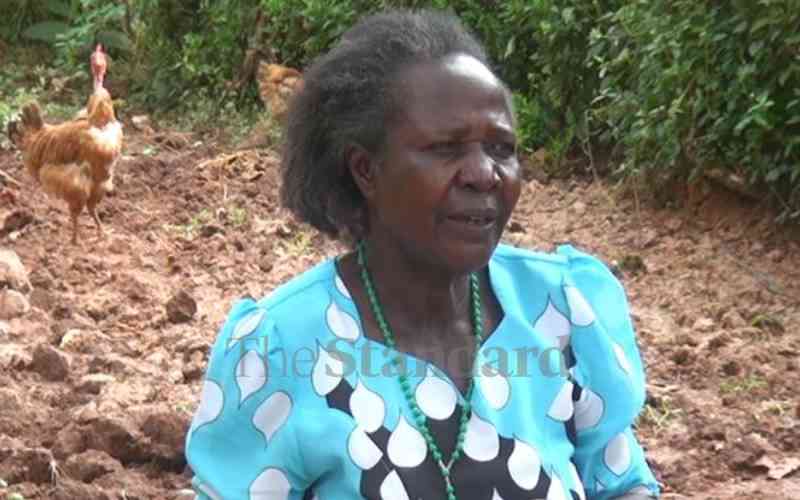 While she currently has 39 students per session, Wanyonyi has trained hundreds others, some who have opened shops and deal in commercial knitting and weaving.
Ms Wanyonyi says she regularly visits her former students to monitor how they are faring and to offer guidance where necessary.
She says this has not only earned her admiration, but also created a strong bond between her and the community. She notes that introduction of the Competency-Based Curriculum ( CBC) was a boost to her sagging spirits since at one point she asked herself whether she was doing the right thing.
Whenever schools close down for holidays, Wanyonyi says she gets even more learners as many students also seek to be taught how to knit.
Not only that, Ms Wanyonyi says she also offers guidance and counselling to her clients who need help.
"I have handled several mediation talks between couples and I am glad that I have been able to restore broken marriages and the families have over time been coming back to thank me for reuniting them," she says.
According to Susan Adhiambo, one of the learners at Wanyonyi's home, the enterprise has helped boost her family's income since sales of knitted items supplement her earnings from her salon job.
"I was introduced to Mama Harusi (Ms Wanyonyi) by a friend and I learnt great skills that I have applied in life for a living and this has been great, especially at the time when my husband did not have a job," she said.
Elizabeth Wanyonyi, a widow who is also a learner said the lessons keep her engaged hence avoiding stress. She notes that widows go through many challenges and some end up destroying their lives due to stress. She says she is grateful to have the opportunity to do something meaningful with her life through knitting.
Related Topics