If elections were held today Roots Party presidential candidate George Wajackoyah would garner 880,000 votes.
A new poll by Tifa released yesterday from the national survey conducted between June 25 and June 30 shows that Prof Wajackoyah and his running mate Justina Wamae would get four per cent of the 22.1 million registered votes across the country.
According to the poll, Azimio la Umoja-One Kenya alliance's Raila Odinga is the most preferred presidential candidate with 42 per cent followed closely by Deputy President William Ruto at 39 per cent.
Agano Party candidate David Mwaure did not feature in the poll.
But is the rise of Wajackoyah that stands out in the opinion poll. The Roots Party presidential candidate is making a debut in the State House race after former presidential candidate Abduba Dida picked him as running mate in 2017, before he was dropped from the position.
If the results of the poll remained true in the August 9 elections, Wajackoya would be in the enviable position that Wiper leader Kalonzo Musyoka found himself in when he became number three after garnering 879,903 votes, representing 8.91 per cent, against Mwai Kibaki of PNU at 4,584,721 and ODM's Raila at 4,352,993 in the 2007 presidential contest.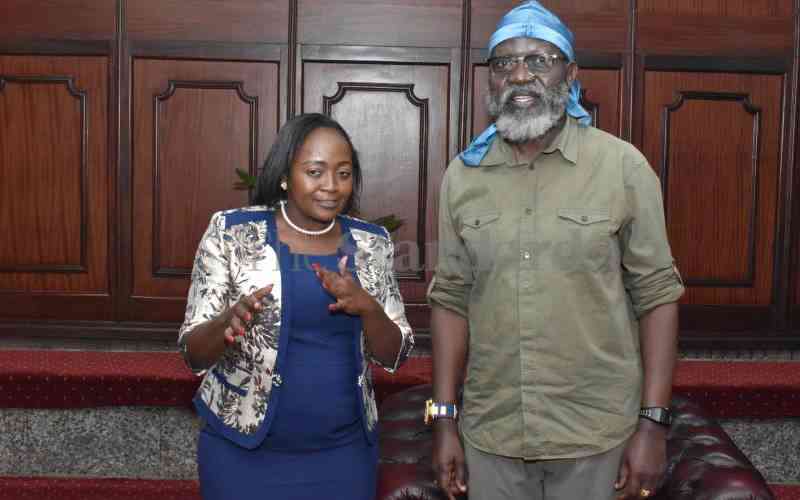 Wajackoyah has become a sensation on the campaign trail after he came up with radical measures he plans to clear the country's ballooning public debt.
The Roots Party candidate, in his manifesto, plans to legalise marijuana for commercial purposes to pay off the public debts.
"One acre of bhang can earn you $78,000 or Sh8 million per harvest. The whole of Nyeri County is 583,000 acres. This means that if we grow bhang in Nyeri, the residents will earn $45 billion or Sh4.6 trillion per harvest," the manifesto reads.
"And because bhang is harvested twice a year, it means Nyeri residents will earn $90 billion or Sh9.2 trillion every year. This means if we grow bhang for export, Nyeri in one year will earn the equivalent of Ethiopia's GDP."
Wajackoyah says his administration will advocate for snake farming to extract venom. He also advocates for export of dog meat to China and other countries to raise funds.
"A snake farmer would make an estimated Sh600,000 per vial of anti-venom, with exporters of dog meat earning Sh2,400 for every kilo of meat sold," he says. In his 10-point manifesto, he says his government will hang those convicted of corruption.
"We shall seek legislation of the death penalty to hang anyone who has stolen public funds," he said in an interview on Spice FM.
If elected, Wajackoyah will seek to suspend parts of the Constitution that do not work and will instead ask Kenyans what they want.
"We have countries with no constitution. Countries like the UK, Canada, New Zealand, and Israel operate very efficiently without a written constitution," he told KTN News.
The Roots party candidate says he will make Kenya a 24-hour economy and make every Friday, Saturday and Sunday a holiday so Kenyans can have a four-day work week.
He plans to move Kenya's capital city from Nairobi to Isiolo and introduce eight regional states, each with a federal government "that will give every community power to make their own decisions".
Wajackoyah also promises to deport idle foreigners.
According to the poll UDA is the most popular political party at 33 per cent while ODM comes second at 26 per cent and Jubilee 4 per cent. Roots Party has a three per cent rating, while Kalonzo's Wiper is at two per cent. ANC, DAP-K, and Ford-K tie at one per cent each.
Wajackoyah's Roots Party is popular in Central Rift and Mt Kenya.
Looking at the distribution of support for the two main presidential candidates (and their running-mates), each is most popular in their 'native' zones: Ruto in Central Rift (63 per cent) and Raila in Nyanza (68 per cent).
jng'[email protected]
Related Topics