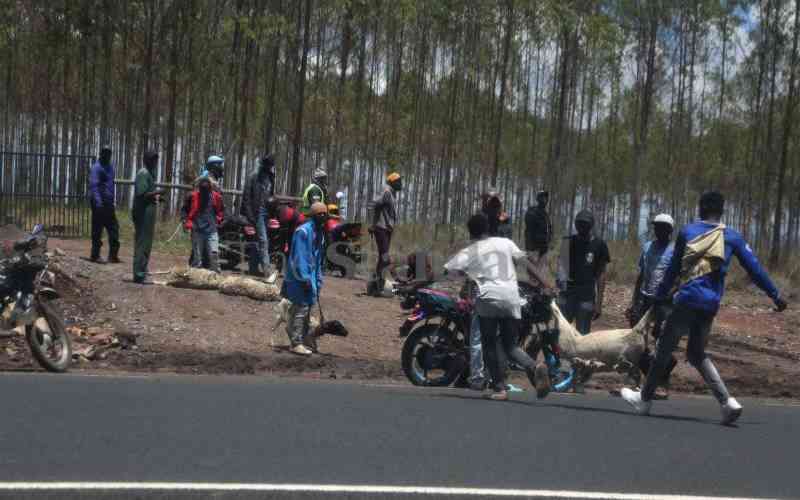 The absence of police during the invasion of former President Uhuru Kenyatta's farm along the Eastern Bypass in Ruiru on Monday has raised eyebrows amid disquiet over the alleged involvement of government officials in the attack.
That, coupled with a past warning by National Assembly Majority Leader Kimani Ichung'wah that raucous youth could one day invade the farm, has fanned claims the that government entertained the disorder to counter dissent from Azimio leaders and their supporters.
Tuesday, March 29, President William Ruto broke his silence over the ugly incidents on Monday saying that impunity will not be part of the country's political discourse, but also sweeping the matter to the doorstep of Inspector General of Police Japhet Koome.
"We have deliberately offered the police operational and financial independence to work. It is their duty to ensure that everyone adheres to the rule of law," President Ruto said from Berlin, when he met Kenyans living in Germany.
But Koome had very little to say of the matter, only acknowledging "reports of invasion and destruction of a farm in Kiambu county" and "reports of invasion of a private property in Embakasi area in Nairobi."
He condemned attacks on police officers and destruction of property "resulting from Azimio's unlawful demonstrations in Nairobi" and noted that property of unknown value was destroyed in Nairobi, "including two police motor vehicles and 23 officers that were injured."
"We commend our officers for discharging their duties with the utmost respect for the rule of law as demonstrated by their restraint during the unlawful protests," he said.
Koome did not speak to the riddle of the Ruiru land attack. The land is located near major security installations. The farm also has within it a police camp whose officers, for some reason, were reportedly not on duty during the Monday incident which was widely reported the whole day.
The disconcerting incident came hot on the heels of a Mt Kenya leaders' meeting in Thika where they declared they had had enough of the anti-government protests and destruction of businesses. Yesterday, however, a heavy contingent of police was deployed to the farm, more than 24 hours later.
Koome now finds himself on the spot over allegations of complacency, with leaders from the opposition accusing him of being at the beck and call of politicians running the government. Yesterday, Director of Public Prosecutions Noordin Haji directed Koome to bring to him "all persons" responsible for planning Monday's chaos.
Haji complained that whereas suspects had been arrested and charged in court for various offences, the persons culpable of planning, inciting, instigating and financing the commission of offences had not been investigated. "You are hereby directed to undertake comprehensive investigations into these offences and submit the investigation file within 14 days," Haji wrote.
On Sunday, Koome had termed the protests by Azimio illegal and threatened to arrest Raila and his lieutenants for leading the protests. The IG would later say investigations had been launched into the invasion of Kenyatta's farm and Raila's gas company, promising to bring the culprits to book.
"My brother, the former President Uhuru Kenyatta, if you want to be respected, then respect other people first. Respect other people's property. If you don't respect other people's property, then we, the people of Mount Kenya, will ask you many questions about the huge tracts of land that you occupy, starting with your land on Thika Road near Ruiru," Ichungwa said in his March 20 "prophesy."
"We'd, thereafter, ask you about your land in Taita Taveta and Nakuru. When a Kenyan's property is invaded, then we will also invade your land, and ask homeless Kenyans to settle on them. Don't think that only the ordinary Kenyan will lose property (during the demos). Even you, will pay a price. That is my message to none other than Uhuru Kenyatta," he added.
ODM Secretary General Edwin Sifuna claimed that Ichung'wah, and two other Kenya Kwanza leaders played a leading role in Monday's invasion. Narc Kenya leader Martha Karua said all Kenyans deserve protection by police irrespective of political affiliation.
"I do not know anything about the invasion of the Kenyatta's' land…I first saw on social media the reports claiming that unknown people had invaded the former president's farm. That was around 11:30am. I had to wait for mainstream media to verify. It was after a local TV station aired live footage of what was happening at the farm that I got to know that the incident had indeed taken place," Ichung'wah said.
He also refuted claims that his March 20 remarks sparked Monday's invasion and called on investigative agencies to probe the matter.
"…If anyone suspects that I had a role to play in the Northlands farm invasion, then I'm open to investigations. The police can access my phone to establish who I spoke to, if I did any mobilisation, or which places I visited on or before Monday, March 27. I'm ready to have an investigations file opened against me."
Some Kenya Kwanza leaders are now accusing Azimio supporters of being behind the Northlands farm and East Africa Spectre attacks.
The chaos witnessed on Monday came a day after more than 100 leaders drawn from Mt Kenya convened at Thika Greens to discuss and restate regional support for the Kenya Kwanza administration against planned opposition protests.
Related Topics