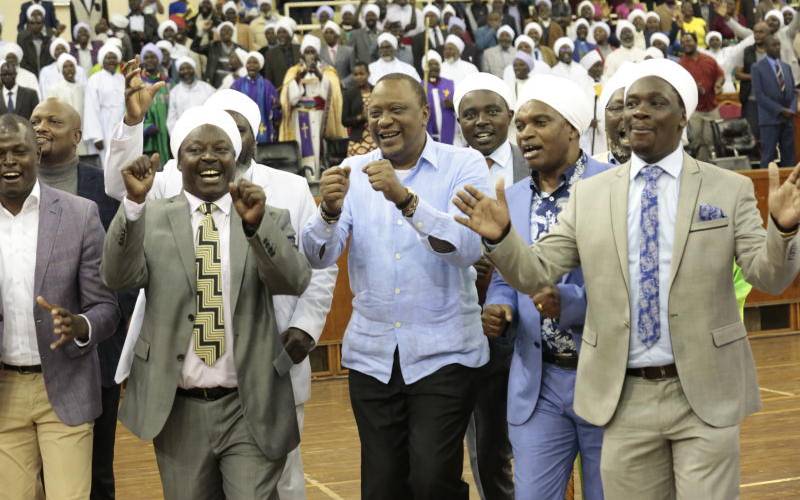 Today, the Akurinu Church celebrates its 100th anniversary since its founding in June 1922. The grand event will take place at the Kasarani indoor arena. Chief guests expected include President Uhuru Kenyatta, Azimio presidential candidate Raila Odinga and his running mate Martha Karua.
Because of the history and circumstances informing its origins, the now two million-member Akurinu Church has never shied away from openly taking a political position or endorsing their preferred candidate(s).
At a similar function and venue in June 2019, President Uhuru was wildly cheered when for the first time in public, he chastised his deputy William Ruto for abandoning the job they were "jointly elected to do and instead engaging in early campaigns to succeed him." He vowed when the right time came he would personally campaign for a person of his choice, and against those who had rebelled against him.
Tellingly, the DP broke protocol to arrive at the function after the President but wasn't given a chance to speak. It isn't clear whether he had been invited or he gate-crashed!
Unconfirmed reports have it that the Akurinu Church will today endorse the Raila/Karua ticket. It will not be the first time for the church to identify with a presidential candidate.
In the first multi-party presidential election in 1992, Akurinu Church openly sided with opposition candidate Kenneth Matiba. In Kinangop constituency, for example, a little known member of the Akurinu Church vying on Matiba's Ford People ticket, Mary Wanjiru, easily trounced well-grounded and charismatic politician Kimani wa Nyoike. Outside his native Murang'a, Matiba had his next big harvest of votes in places with high Akurinu concentration, including Kiambu where the church originated, Nakuru and sections of Laikipia, Embu, Kirinyaga and Uasin Gishu.
In the 2002 election, the Akurinu threw in their lot with Uhuru and have remained loyal to him since. The church only endorsed Mwai Kibaki in 2007 because Uhuru wasn't on the ballot but on Kibaki's side.
Akurinu's attachment to Uhuru has a sentimental angle to it. His father, Mzee Jomo Kenyatta, has a shared history with the Akurinu going back to 1920s when the church came into being, and its role in the freedom struggle, which is the same time Jomo's political career began.
In the book he authored in 1938, Facing Mount Kenya, Jomo devotes a whole chapter titled, The New Religion in East Africa to give the political background leading to birth of the Akurinu Church and its role in the fight against colonial oppression.
The philosophical account behind founding of Akurinu and other protest African churches in the 1920s, is best summarised in an interview with one of Jomo's mentors in politics, Jesse Kariuki, who testifies: "When the white missionary came, he told us to bow our heads and shut our eyes for prayer. He prayed that we Africans forget about all the things of this world, including our traditions and customs, which he called satanic, so that we can inherit the kingdom of heaven. When he finished the prayer, we opened our eyes to find our land, our livestock and other earthly possessions had been seized by the white man! When we asked him what had happened, the missionary told us not to worry because our riches are in heaven.
Beyond the blue
"Then he taught us to sing the hymn: 'This world isn't my home I am just passing through. My treasures are laid down somewhere beyond the blue. The angel beckons me and I can't feel at home in this world anymore….' The white missionary told us to forgive and pray for his brothers, the colonialists who were massacring and flogging us in the streets and raping our women, because they didn't know what they were doing. He concluded by telling us not to complain about being colonised and enslaved because all that was happening to us was God's will on our way to heaven! We realised the white missionary had cheated us. He and his brother the colonialist were one and the same. They were devil's agents to suppress and oppress the black man. We vowed to reject the white man's religion and start our own indigenous churches!"
The first Akurinu congregation was reported in Limuru, Kiambu, in June 1922. It was led by one Njothebu (the Kikuyu version for Joseph) wa Ng'ang'a who was a prophet (murathi). That is why in earlier accounts the church was referred to as Kanitha wa Arathi or Aroti (church of the prophets or dreamers). To this day, Akurinu's life is said to be guided by dreams in many aspects, including the choice of one's spouse.
The name Akurinu (sometimes spelt Akorino) is said to have come about because Prophet Ng'ang'a used to ask his followers: mukuuri nuu? (who is the saviour?).
Like the biblical Moses, Ng'ang'a is said to have received instructions from Ngai (God) to make a trip up Ki-rii-nyaga (Mount Kenya) in company of other arathi/aroti from Gema communities – Biribu (Philip) M'mukubwa from Meru, Ririani (Lilian) Njeru from Embu, and Heneri (Henry) Maina from Kirinyaga – and receive maathani (commandments) to guide the Akurinu community. The instructions were that they strictly travel along Rui rwa Nyamindi (River Nyamindi) on their way up the mountain.
African rights
Though not opposed to Christianity, Akurinu practices a brand of faith that blends with positive aspects of African culture and traditions. More importantly, unlike the mainstream missionary-led Christians who were indoctrinated not to oppose colonialism, the Akurinu took a strong stand that African rights must be respected, including the return of land confiscated by the whites, a stop to forced labour and punitive taxation for Africans, and an end to racial discrimination.
That alarmed the colonialists who embarked on a ruthless crackdown on Akurinu followers, closing their churches and imprisoning their leaders on flimsy grounds. Matters came to a head when Akurinu founder Ng'ang'a and two companions were shot dead by colonial soldiers while on a prayer mission at a cave in Ndarugu area near Thika. That precipitated a protracted hide-and-seek hostile relationship with the colonial authorities, lasting until the countdown to independence in 1959 when the colonial government relented and agreed to formally recognise and register Akurinu Church in the name of Holy Ghost Church of East Africa.
Songs of the Holy Spirit
After independence, the new government fully embraced the Akurinu Church. They were frequent visitors at Mzee Kenyatta's State House where he would join them in heartily singing and dancing to tunes in their hymn book Nyimbo cia Roho (Songs of the Holy Spirit).
Jaramogi Oginga was also great fan of the Akurinu and other indigenous Kenyan religious groups, including Dini ya Msambwa in Western, Dini ya Mumbo and Dini ya Zakawi in Nyanza, Dini ap Mbojet in Kalenjinland, and Kathambo and Ndonye in Ukambani.
In his book, Not Yet Uhuru, he relates how his love for things African made him discard his European name 'Adonijah' and give none to his sons, Raila and Oburu.
Postscript: When in high school, I had a close friend by name Boniface (Boni) who belonged to the Akurinu faith. One day, I asked him why he wouldn't shake hands even with me yet we were both Christians and shared a double-decker bed in the dormitory. He told me that if for nothing else, not shaking hands was advisable on health grounds alone. He was vindicated four decades later when Covid-19 struck and the whole world went 'Akurinu' way as far as shaking hands is concerned!
Related Topics